He is a two year old tuxi cat, saved from the same lousy animal control where I got the others. He's adorable. He has the gravel-y baritone meow that comes out of this tiny body with this sweet, almost cartoonish face - short muzzle, round eyes a wide face that looks even wider with the white band underneath his cheeks. And he has this little reverse white beauty mark on his lip. Too cute! Anyway... enjoy my new boy!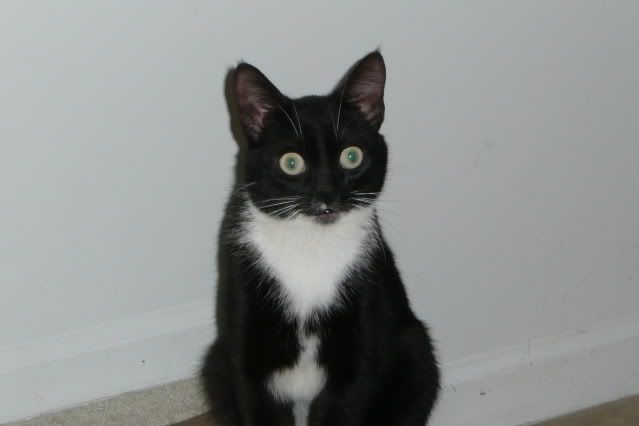 Here he is on the mantle which is adjacent to the stairs...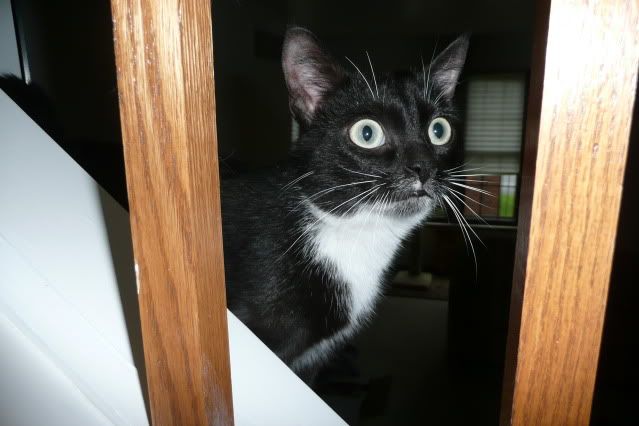 A couple of quick clips of him playing with toy mousies.. which he LOOOOOOVES!!! This aren't the best example, but he really throws himself into the play!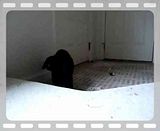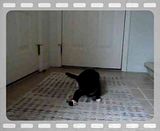 His face reminds me a little of Pussyfoot - a b/w kitten from the old Looney Tunes cartoon:
http://www.youtube.com/watch?v=cnEeC...eature=related
And in case this wasn't enough - a quick clip of my sweetie/scaredy boy Ghost - who is coming along. I even got him to play with a toy mouse a little bit this morning!