Hello All! We have now acuired our first stray (we think) kitten. The little girl was found on a friends porch and brought to us. She was pretty dirty, but mostly social so we aren't sure if she is a true stray. But she is adorable and as sweet as can be! We have been thinking of names and have decided on Pixel. She is a little tortoiseshell kitten, about 3 and a half months old. She went for her first vet visit today and is staying overnight so they can check for worms, the major diseases,(she has not come in contact with any of our cats just in case) and other things. If she gets a clean bill of health we will be finding her a home.
Now the pictures! There aren't many, and she is wet in all of them because she had to have a bath. Here they are!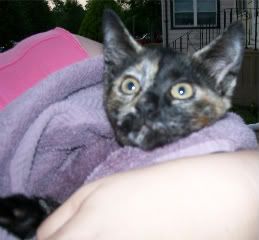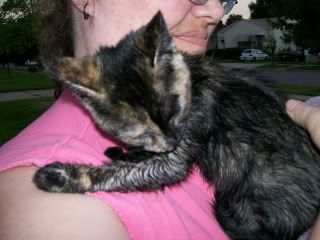 I'll try to get on and post more pictures tomorrow after she gets back from the vet.
Manda