As promised to Eileen, I tried to get a video clip of Xander doing his "roly poly" dance which he does quite often for no other reason than he's a silly boy


I have one short clip of that.




However, as you can see from the next two clips, Riley always thinks that means Xander wants to play. Their idea of "fun" is this: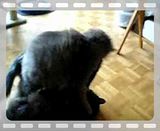 Silly boys
I'll have to try to get Xander's dance again sometime when Riley is in the other room, lol.