Ok, those of you who know me know that it has been quite a while since I've posted any new pictures of my cute little fuzzy bear Kitters! So, for those of you who are cravin' for some of her beauty, her you go!
Kitters was laying down on her box that she has taken over (as every other box in the house) and looking just
TOO
cute I
HAD
to snap a shot. And of course she had to pose for me!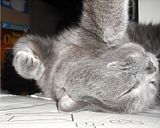 You can click it and see her in all her glory
BIG
and cute and if you make it bigger you can she her little beauty mark on her nose!!
And another one!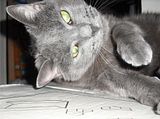 Ok, there you go guys!
And since this creature has fur too and I took it the same day I thought I would share with you guys a little girl I ran into while I was out for a walk. If I would have taken a picture of the little boy that came up too (rather than the very shaky video I took) I would show you him too, but....
My little deer!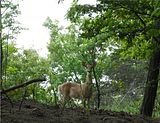 Ok, That is all from me today!