I don't post enough happy pics of Brandy, I'm so focused on her tumor that the pics are all focused on it... So how bout some happy pics and then the not very bad, but not good news....
Brandy getting some lovin' yesterday from Kayleigh
Brandy outside watching Kizzy sitting in the window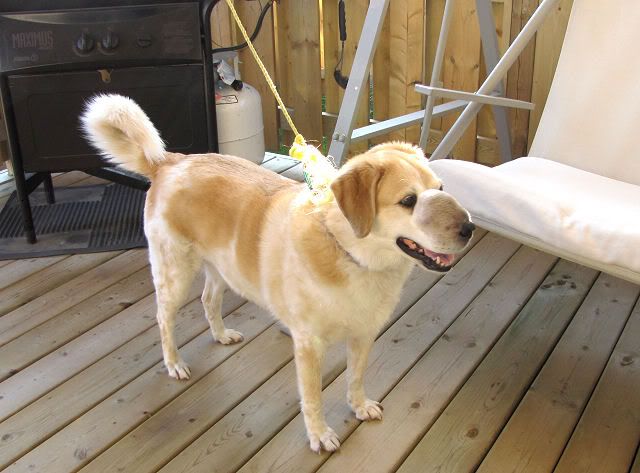 Sitting nice for the camera
Looking at me, and trying to "stay"... She doesn't listen very well LOL...and there's nothing wrong with her hearing.
What the vet did:
An exam, which showed (as expected) substantial growth since I last brought her in. There is some erosion starting in her mouth
(that would be within the last 2-3wks when the lump grew onto the side of her face) and some substantial swelling inside of her mouth as well as the outside. I have never looked in her mouth, but saw it today
The lump has pushed down the bridge of her nose, so in her nostrils you can actually see it... this can explain the increased sneezing, snorting, snoring, etc. She can still breath a little bit through her nose. The exam also showed that it hurts
Mainly by touch though.....as well as eating could hurt too. The exam also showed that some of the new parts are soft, rather than like the initial lump which is hard.
Her weight is good, her attitude, and quality of life is good.... which is wonderful. But..... now that there is erosion in the mouth, she could go downhill fast especially considering the rate of growth of this tumor. When the erosion continues, she will not be able to eat and her mouth will cause her much pain. Whether that happens next week, or next month, who knows. But if the rate of growth is any indication.....
There is also a chance that her skin will not be able to stretch anymore, and the tumor will split open.
He gave me some NSAIDs to try with her (anti inflammatories) for pain and also hopes that some of the "soft parts" of the tumor might be swelling. We start with 1/4 tablet for a couple days, if no difference, then we try 1/2 for a few days. If side effects, or the med does not help, then we go with pain meds, either tramadol or morphine.
So there you have it. While the timeline is questionable, and can only be guessed by the rate of growth between March and now, it is highly probable she will have to be euthanised within the next couple months because either she won't be able to eat, the tumor has split open or it has reached her eye.
It is improbable that the tumor will stop growing... not impossible, but very very unlikely.
So I ask of you,
please enjoy the pics, and mega vibes
that Brandy can pull through untill after my daughters birthday on July 20th. If she's still doing well then, I'll be asking for more vibes that she pulls through till after August 14. (my dd is going to cadet camp for the first 2wks of Aug. and would never forgive herself if she couldn't say goodbye).
Thank you for reading.