Big or small, I would love to see some pics of everyones gardens
What do you like in your gardens? Bushes? Flowers?
Personally, I like shrubs, hostas and assorted lilies. I'm not much for a bunch of flowers. I do like assorted colours though.... I have over 40 varieties of hosta
and am quite proud of them. I have several colours of lilies ( daylilies, asiatic lilies, and some others), a couple different iris, and then bushes/shrubs.
I have to take new pics of my gardens, so I'm going to go do that now.
But for now, here's a video of DD helping do the stonework on one of our gardens a few yrs back (it's since been added to, which you'll see when I post today pics)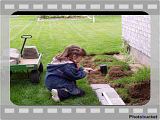 Post away folks, lets see those gardens.