And naturally I took some photos of her when I went down to visit.
It looks to me like she is a dilute calico. She has some really neat classic tabby patterning in the cream and grey. She is a silly looking adorable kitten. Her name is Gwen Stacy.
I has a fishie: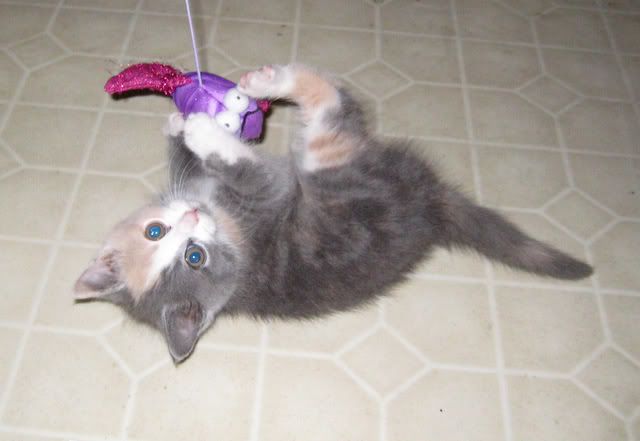 I love her splotched back:
I think she is telling me to stop pointing the stupid flashy thing at her here. My sister is holding her.
She looks so sad! And fluffy.
Sad here too:
And here she is nomming my mom's finger: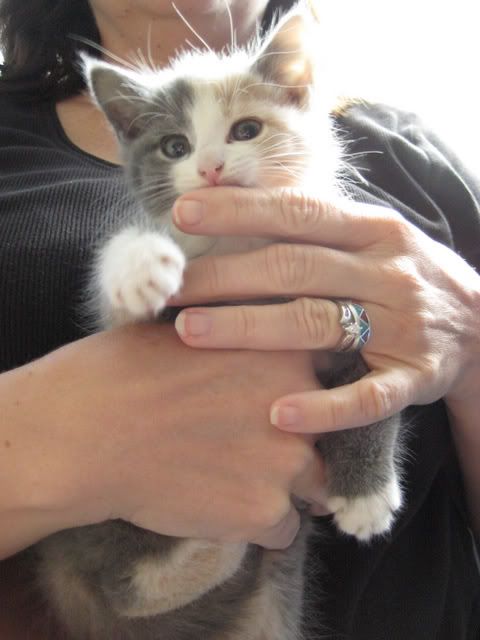 Surprise! I'm adorable!
And here is a darker, more recent photo. The other photos are from about 4 weeks ago. This one is from last week. She is grumpy and has less kitten fuzz.
And here is a video of tiny Gwen Stacy falling/playing in my parent's kitchen. Some of my family members are talking in the background. Probably I need to learn how to put music into my videos...
Anyway
Gwen Stacy
I hope you enjoyed her. My sister is.
She turned 14 in April and received Gwen Stacy in early May as her birthday gift. They had to wait until she was older and could leave her mama.