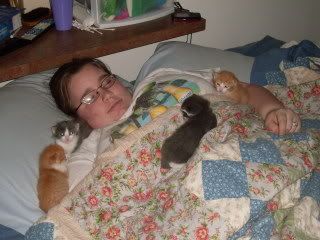 Ok so most night resently the kittens sleep with me and hubby. Echo will come feed them then leave there warm and safe she knows that. Well last night I fell asleep early just playing with them and hubby caught this pictures.
They are 2 weeks and 4 days these where taken last night.
Hope you enjoy
Oh we named the kittens
Blue and white is Boss thats my sisters kitten
Tortie is Reesy like resies pieces dont ask hubby came up with that one
Orange girl sunsine
Orange boy simba If we ended up with a kitten he would be it.
NOTE hubby wants a kitten. But personally I don't think we cane afford to keep any.