*Sorry this is a double post...I didn't see this section before...forgive me
*
Hello to everyone! I am new to the forum. My name is Cassie and I am 21 years old. I am originally from Indiana but I live in Mexico.
Here's the thing...I have always had a weak spot for animals! Ever since I was just a little girl! I am actually studying to be a veterinary assistant, because I want to know more about how to care for the furry ones in my life.
I got some devastating news from my doctor a few years back...I have allergies. Her advice...get rid of your pets ASAP. I laughed in her face and asked for pills instead. I have been in treatment for 3 years with no problems. Recently I decided to start looking for a little kitten to adopt. I have always wanted a cat, but my allergies were too bad before.
Then, out of the blue, a friend of mine contacted me telling me that she had found a VERY small kitten on top of her roof. She said that she and her mother had tried to get the little one to come down to no avail. Each day they watched as the poor little thing jumped down from the roof and onto a fence. Just on the other side of that fence were 2 feroucious GSD (please don't get me wrong I love them! But these guys are guard dogs). Each day the little kitten risked her life to steal food from their bowl and would climb back up onto the roof. My friend and her mother finally got the little one down, and took her in. They immediately took her to the vet. The vet told them that the kitten was too little for vaccinations, but she had half a dose of deworming medicine. Here's where I come in. Today my friend was kind enough to give her to me (my friend cannot keep her b/c she lives in a "no pets" apartment.). I immediately took the little one to a good friend of mine who happens to be a vet. He examined her and gave me some medicine to treat for worms. And just as we were about to leave the little kitten had diarrhea. The vet. gave me some antibiotic which I have to give her every 8 hours.
Right my little one is scared half to death and hides under my bed. She eats fine, but I have no seen her use the litter box today. I just want to make her feel comfortable and loved. She has never had contact with humans, and it is obvious that she is VERY scared of me. Does anyone have any advice for me or my little one?
Here is a pic!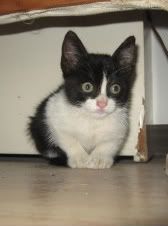 Any name suggestions?