Title says it. I am scared. I was uploading some pics and when you're with her you don't notice the growth as much, but when you see pics of only a month or two difference and see the growth, its scary.
The tumor appears to be getting little tumors on the sides of it. She has a baseball on her nose, and ping pong balls on the side of it.
http://www.thecatsite.com/forums/sho...t=brandy+tumor
(whole story)
She's started to eat less now....
Anyways, here's some pics of my puppy's growing tumor.
shortly after diagnosed:
Nov. 08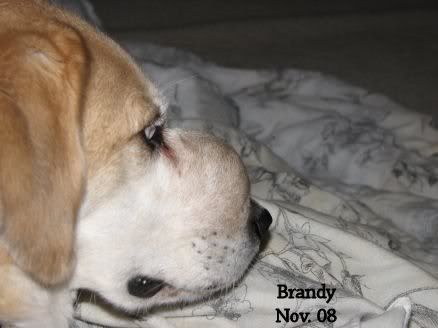 Feb. 09
April 09
I know I have to be strong for my kids....but I don't know that I can be. My husband leaves on Mondays and comes home on Fridays... couple wks ago he told me it grew in the time he was away. I didn't believe/notice it. Now, pics don't lie.
My husband and I highly doubt she will make it through the summer.
She's 10yrs old this this month, but she still acts like she's 2. This would be soooo much easier if she was sick, you know....had signs of old age, decreased energy, slow pace, etc. But she doesn't. She still barks at every little noise at the front door, she still jumps all over visitors, she still gets excessively hyper when she wants out, she still plays (although she gets tired easily)....the only thing different is that she is starting to eat less. But that's normal for her in the summer.... she's never handled heat well, hence my thinking she won't make it this summer.
I hope and pray she continues to be well. I know I have the strength to end her suffering when the time comes.... I just want that time to be longer than what I think it will be.