My beautiful black cat, Spook had to be PTS this afternoon.
Spook was diagnosed with HT in October last year. Unfortunately, he did not respond well to medication which we had to stop (the medication had been changed) in early December. At the time, he was so poorly, we didn't think he would make it to Christmas.
After he came off the medication, he perked up quite a bit and surprised us all - including the vet. Although he was kept inside he remained happy. The weather here was warm enough last week to let him outside to sit in the sun for a couple of days. He only went to his favourite spot in the front garden, stayed there for about an hour and came back inside again.
Last week he started getting picky with his food. Because of his HT he would eat everything in sight so we knew he was starting to go downhill.
Over the weekend he stopped eating altogether but was still drinking lots of water - with little coming out the other end. He also started hiding - a sure sign he was feeling really ill as he was a very outgoing cat, lovely to be made a fuss of.
Yesterday he was coughing and I knew it was time. I'm sure his kidneys were packing up and the fluid was collecting in his lungs. I also knew his time had come as he gave me a look that said "I've had enough now" so this afternoon I had him PTS.
He was always a very dignified cat and even as he was being PTS by one of our vets, Amy who was so kind and gentle with him, he kept his dignity and purred till the very end.
My son was with me as he was 13 years ago when we got Spook as an 8 week old kitten.
We have many cats but Spook was very special. He always will be but he's running free now at Rainbow Bridge but he's taken a huge part of us with him.
Spook. April 1996 - 12 May 2009.
Gone, but never forgotten.
Spook, 2006 chilling out.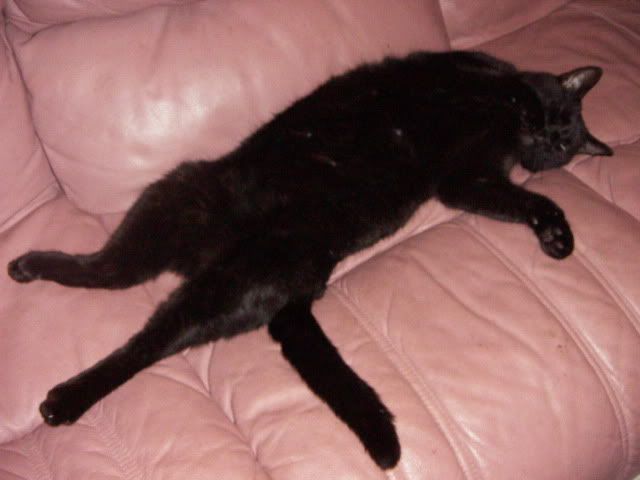 Spook, November 2008 after HT diagnosis.
Love you always Spook