I know I can't be the only one with a kitty who loves to 'get out there' and do stuff...
Here's a few pics detailing my Latifah's latest adventures...(all of these are clickable thumbnails!!)
Riding horse..."faster Pride, faster!!!"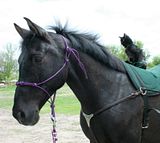 Sirius (my poodle puppy, now 9 mo's!) and Latifah at the farm; These two are best buddies!