hello everyone!
Sorry I haven't been here lately, I've missed it like crazy. I will try to be more active in this forum.
I'm feeling soo happy! I have great news! My neighbor's cat had 4 adorable babies and she couldn't have them, so she asked me if I could help her find homes for them and of course I agreed. They are the cutes kittens in the world! And they are all so sweet and adorable, they are 4 gorgeous girls. They are so tame because her little girl has taken care of them since their cat gave birth, it is so cute. Her daughter had a doll crib beside her bed and there mamma cat slept with her babies.
The best part of this story is I found homes for all of them!!! And great homes!!!!!! Yayyy!!!!! I'm soo happy!!
I only have 2 here left that I will give to their new parents tomorrow and on Friday.
here are the cute girls, they are all beautiful, but everybody wanted the gray tabby, she is gorgeous and so are her sisters.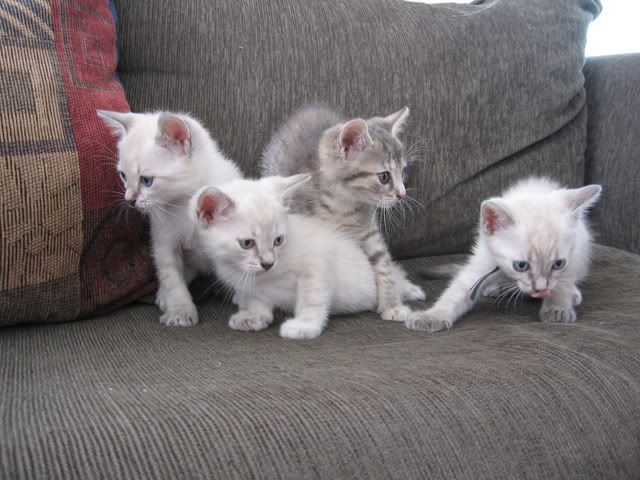 Aren't they cute?? I hope nobody fainted, it is too much cuteness to take at once.
Ok, more good news! On Saturday, my brother was leaving his home and it was raining really hard. As he drove he saw two kittens that were being pulled doen by the water , my brother got out of the car and ran to them and saved them both. he got here soaking wet and dirty with the two kitties in his arms, I'm sooo proud of him!!! The best news is the nest day a friend of ours came to vist, saw them, fell in love with them and took them both home!!! What a wonderful weekend, I love to make a difference in a kitties life