We adopted another kitten today! Nora just turned a year old yesterday (the 5th) and up until about 6 weeks ago I had been a stay at home mom with her since we got her at 10 weeks. I started a new job and now no one is home to keep her company during the day and she is having severe separation anxiety, and almost goes into full blown panic attack mode when she sees us getting dressed in the am. I convinced my husband that she needs a friend to keep her company during the day.
We picked up an all blue DSH kitten tonight. She even has a blue nose! lol She is a little over 8 weeks old. I would prefer a kitten a bit older, say 10-12 weeks, but they wouldn't hold her for me. She was a bit over stimulated tonight, with leaving her mom and litter mates (not to mention the 4 dogs they had), riding in the car for the first time, coming to a new house, meeting a new cat, getting her nails trimmed, getting a bath... Poor thing plum passed out as soon as I put her back in her crate. lol She's in there sleeping now with a piece of fleece rolled up next to a water bottle full of hot water.
I have named her Macy (may-see) for now, but a few of our pets in the past have had a name change in the first few days when we get to know their true personality. Nora was originally Hemi. I'm glad we changed her name, b/c she is DEFINITELY a Nora. Hopefully Macy fits this kitten b/c I really like that name.
Here are a couple pictures. They aren't very good b/c she won't hold still long enough for me to get a good shot of her. Ignore the laundry in the background in a couple of them. LOL The poor thing had all her whiskers cut off by the children of the person I got her from so she looks a bit funny. They will grow back, right?? Her ears are more directed forward than Nora's, and I think she'll be a bit darker than her also. Her muzzle is shorter than Nora's is also. She has faint tabby markings now, but I think they'll fade as she gets older. Nora had them when she was that age, and doesn't anymore. Macy's mother is the same all grey, and is sleek and smooth now.
I have no idea how or why her ear is bent over like that.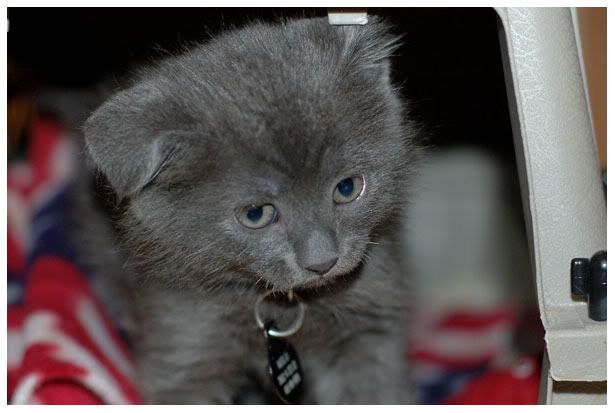 A wonderful picture of her back
Gratuitous butt sniff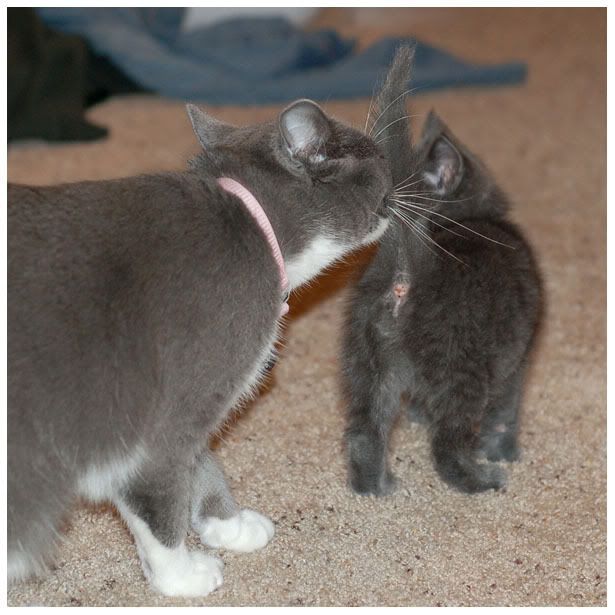 Sticking her tongue out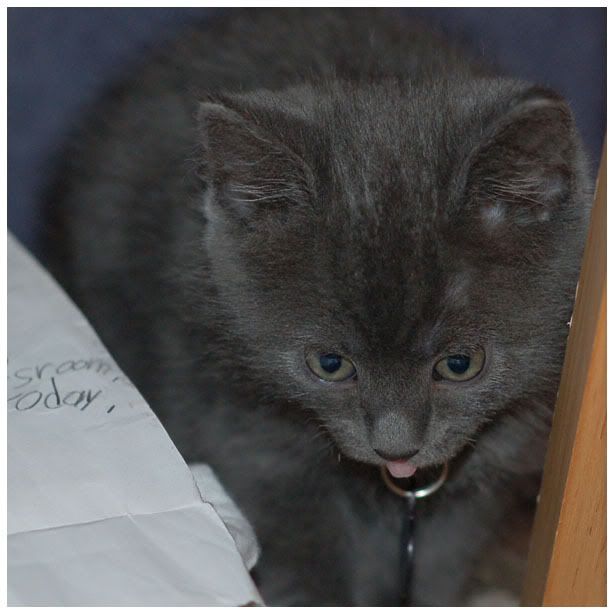 A funny picture of her playing with her tag. Since we haven't settled 100% on a name for her yet, I'm just using Milo's old tag on her for now just in case she gets out of the house.