Good morning to some afternoon to others.
My name is Kat,
I just three weeks ago had a foster cat dropped in my lap her name is now Echo and she is about to give birth.
here her story,
She was owned by a lady who did not pay her pet desposit at her apartment the manger let her slide by until she found out the cat was having kittens. The apartment manger told to to get rid of all her pets or pay the pet deposit.
In turn echos old owner if you can call her that called my friend that owns a local pet shop. He does not sell animals thats the only reason I shop there.
Anyway he turned around and called me. He asked if I would foster her tell the kittens where born and weined. He is sponcering her food and vetting tell the kittens are weined. So I said yes I would. But now I am in love I have never had I foster I like this much so quickly after getting them.
So I will keep her and spay her. Get her fully vetted after the kittens are born. She has been to a vet sense I got her. She had frontline and has been wormed. All the can do right now.
The condtion I got her in was horrible she felt real naughsty like an outdoor cat feels after a few weeks of being outside. She is skinny. Just not well taken care of. Covered in fleas and had 3 ticks. She has had all the bl;ood test she is ok. Right now we are feeding wellness kitten food wet and dry. And I feed her a little raw at night. But she is free fed and has blown up like a balloon in the past 3 weeks. I have her.
Her owner as reported to the houston SPCA. She had other animals they needed out to. And echo should be dropping any day now if you look at the pictures below
Here are a few pics of this lovely lady
These where takin 3 weeks ago. Its will be 3 weeks monday so a few days shy.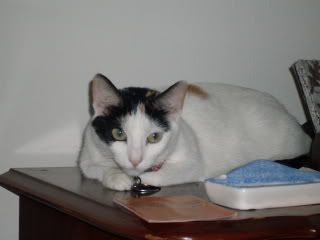 Thses where taken last night