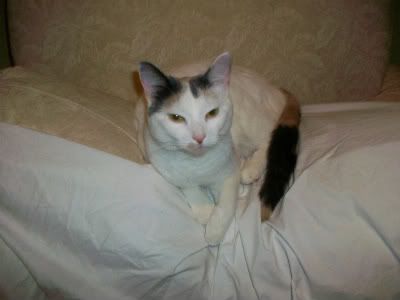 My 1 and a half year old cat, named Lucy, is missing! She's been gone since April 24th! We have sent out 100 posters of her and went door to door. We also called local humane societies and we had no luck.
On the 27th my Mom got a call from a neighbor, that said they saw a white cat get hit by a car and that they saw the cat limp towards a creek. The person that hit her, never realized they had hit a cat!?
The lady that called said it was her friend that saw it happen and they were three cars behind the car, that may have hit Lucy. They looked for her body but found nothing. And we also looked at every creek around our area and found nothing. We still have no body. She's micro chipped and has all her claws.
We think that a wild animal had gotten her. If she was hurt then I don't think she would last long... Plus we had really bad weather the week she went missing. It rained for most of the week. If some animal had got her, than we think her remains would have been washed away.
But I'm not 100% sure that the she was the one hit by a car. They just said a white cat...but Lucy also had other colors on her head and tale.
But ever since that call, we have had no news of her at all...I am really starting to lose hope. I just wish I can find her!!!