My GF, sister and I attended the NB Reptile Show in PA yesterday. Anyone else happen to attend? It's a huge show (this was our first time!) and it was SO hot and crowded. We did come away with some nice additions for our herp collection, though. I got a newly born 2009 blue tongued skink who is just GORGEOUS. Great colors and wonderful personality, and eats like a champion! Gender is unknown, but I've taken to calling it a "her." "She" had 5 crickets this morning!
Met up with a few friends from CornSnake.com, and one guy, Rick, had a female 2008 Baird's rat snake for sale for $30. He still had her at nearly 2 PM and offered her to us for $20. Considering I paid $80 (with shipping) for my 2008 Baird's male, I thought that was too good a deal to pass up! She ate for me today too, took down a pinky mouse! Woot!
Lastly, Tara, my GF, picked up a juvenile Mexican red-leg Tarantula (Brachypelma emilia). This is our first tarantula and I am somewhat a spider phobe. I am getting better with them every day. When she opened the deli cup to bring him out and into his permanent cage he ran up her arm and I admit that was a bit freaky. I fed him this morning and he ate 5 small crickets. It's amazing how fast they can move when they want to. He is about half dollar sized now.
I'll try and post pics later tonight! Got some great pics of venomous herps that were for sale at the show-- animals like gaboon, rhino and eyelash vipers, monocled cobras, and copperheads. Amazing animals!
Edit: Pics added
Baird's ratsnake, female, named Comet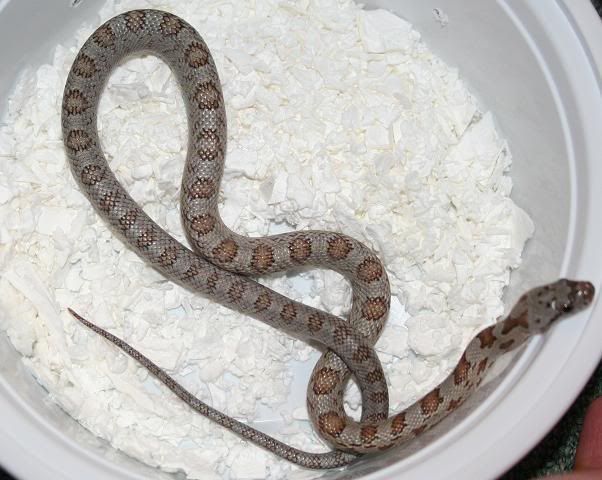 Blue-tongued skink, unknown gender, not yet named
Fireleg T, unknown gender, named Phoenix
And yes... it is ON Tara's arm in the pic... creeeeepy!