Just for fun :)
offline
1,248 Posts. Joined 4/2006
Hey Keller, go bathe your own babies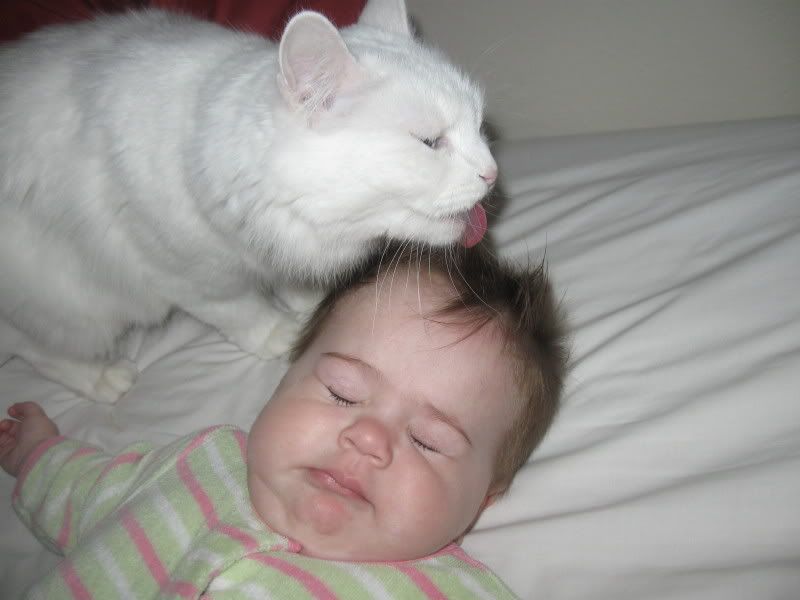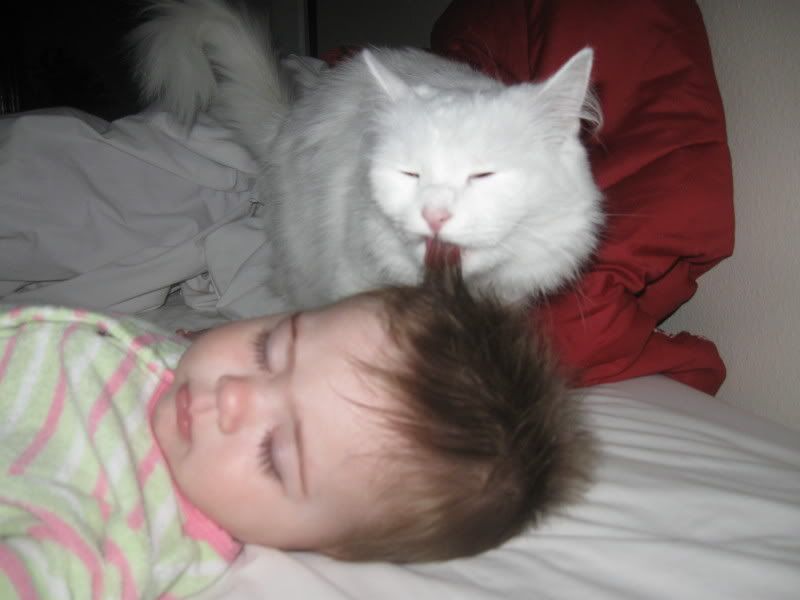 RIP Daddy:Nov 16,61 - July 15 2010

offline
7,209 Posts. Joined 12/2008
Location: ON./Canada
OMG!!!!!!!!!!!!!!!!!!!
So precious
Cleanin' kitty butt

offline
5,708 Posts. Joined 9/2006
Location: Northern IN
Aww... that is so sweet! I hope my kitties are as receptive to the new baby.
Adopt one... until there are none

offline
1,381 Posts. Joined 9/2008
Location: Coastal NC
OMG
That is so sweet!!
offline
Those pics are cute. Keller seems like a sweetie.
offline
1,815 Posts. Joined 11/2007
Location: Cincinnati, OH
That definitely made me laugh out loud. She's quite a good momma!

Leslie
offline
1,248 Posts. Joined 4/2006
she just loves the baby, I don't think the baby was thrilled with her new hairdo
offline
7,579 Posts. Joined 6/2007
Location: In the middle of BC
That is so cute
offline
967 Posts. Joined 3/2008
Location: Saskatchewan, Canada
My siamese Murray does that to me....licks my hair...not as fun as it looks LOL. His tongue kinda pulls the hair, but I allow him to groom me anyways
The baby will grow up to love your Keller as much as you do. Seems like she thinks the baby is here to stay and why not help out!
offline
7,713 Posts. Joined 10/2007
Location: Michigan
Awww! Keller is such a sweetheart!! That first pic.. the baby's expression is priceless!!! I guess Keller thinks she has enough love and kitty spit to go around!!
offline
1,561 Posts. Joined 3/2009
Location: Canada
That made me laugh
I suppose she really enjoys being a mother!
So how are her kittens doing right now?
offline
304 Posts. Joined 7/2007
Location: MA
that is too funny and just so adorable!!!!!!!!! your baby is just too cute!
offline
3,101 Posts. Joined 2/2009
Location: Missouri
OH MY! How adorable!!!