I met a couple of girls I was interested in adopting today.. they were
so
sweet, but
so
sick (with herpes & possible URI, etc.).. it wasn't something I was going to take a chance on bringing home to the others, not to mention it's a financial burden I cannot take on right now. I was so disappointed..
Then this giant teddy bear sauntered by and sat on my foot: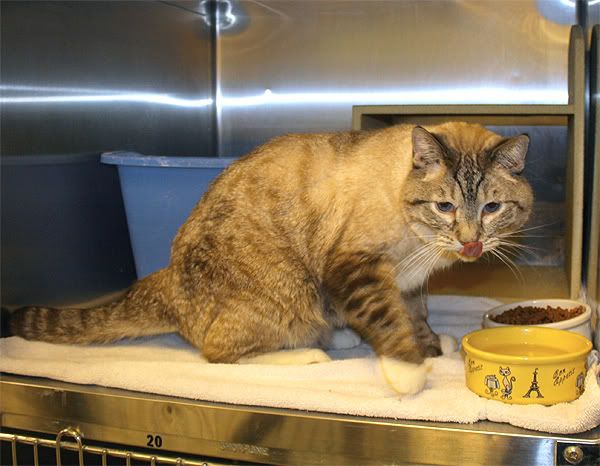 Meet Moose! He picked me out today.
He stopped me in my tracks.. literally! When I picked him up off my foot and those big paws went around my neck, oh my God.. I couldn't help the water works!
He was just so sweet and gentle.
(Get it.. Moose Tracks?! The ice cream?!
) I bring him home tomorrow.
He's HUGE, gorgeous and pure moosh! They said he's incredibly submissive with other cats.. he and Punky will be great pals, I think.
Here's a little video I took of him today.. note: I call him a girl in the clip because I read his info wrong.
As I was about to leave an elderly couple came asking to leave their cat with them. She's about 8 months old and was stuck to a cactus when they rescued her. Their GSD hates cats, so she's lived in a cage for the past 6 months. They had no placement for her, so I became an impromptu foster meowmy!
She's terrified of everything, might have been feral.. which I'll go into detail when I later post for much needed guidance!
Let's just say it's going to be a HUGE learning experience.
Somebunny isn't amused with life!
She didn't have a name.. so I'm calling her "Somebunny".