Ooooh, I'm SO excited!!! I wasn't going to share these photos yet for fear of jinxing the whole thing.. but I am horrible at keeping my mouth shut!
Someone from the rescue contacted me back asking if I'd received their email about these girls, but I didn't.. so I'm hoping it's a sign that I get to meet them!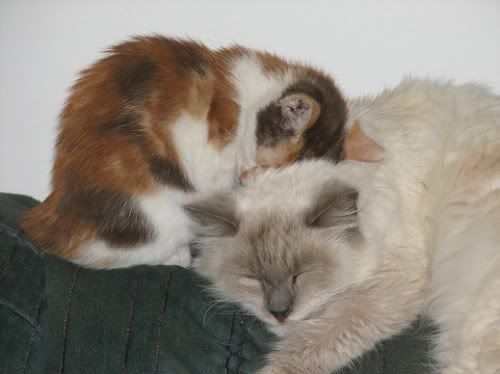 Merry
is the gorgeous orange calico giving the passionate head butt.
She's 4 months old and, by the sounds & looks of it, addicted to love and cuddles!
And this is
Tatiana
.. she is 8 months old. I don't know the full story about her eyes yet. They say her right will never have full sight and had surgery to push back her third eye lid- something congenital maybe?
They go on to say she gets along with everyone and loves attention, as well as playing and chewing on things.
So precious..
They aren't from a kill shelter (which I originally wanted to adopt from), but with every cat I've had I just "knew" from the moment I saw them.. feeling the same way about these girls!!
All because I was looking at Petfinder.. AGAIN.