Question about ferrets...
My GF is moving in with me the first week of June. We're trying to move her animals in with mine slowly so as not to unduly stress the resident critters here. This weekend I got her ferrets.
I felt her cage was too small and old for these two small female ferrets, and so I bought them a new one.
Here it is: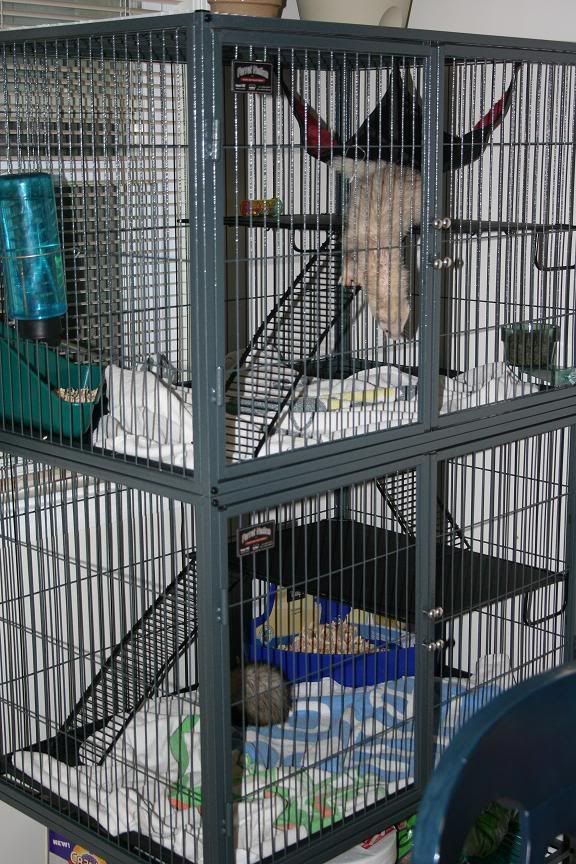 It is called the Ferret Mansion (the manufacturers name-- not ours!). Her ferrets were never litter trained. She kept them on aspen in their smaller cage and they used one corner and she'd just scoop it out each day and replace it with fresh aspen. There were no levels in this cage.
The Mansion does not allow for litter to be placed on the floors. The pans are plastic, but way, way too shallow... so I added two large litter boxes. The ferrets have sort of been using the one... but they keep pooping in other corners too. Is there any way I can correct this? Also, the poop is like one step shy of diahreah (sp?) and I am not sure if this is normal. She says it has always been that way... is this accurate? It's VERY loose and stinks a lot. One small turd is enough to make my dining room reek to high heavens, and I have a very sensitive nose.
The ferrets are a year old each. Getting rid of them is not an option (I wouldn't anyway) but I am hoping that we will be able to correct SOME of these issues in order to make for a smoother running pet household. Any thoughts will be greatly appreciated.