So I'm sure ya'll are aware of my husband and his cat issues. It took us 3 years to adopt our first kitty, and it was a rocky first few months before he finally got used to her. Now he'll freely admit he loves her and won't hesitate to pick her up and cuddle. Before he used to freak if she came near him, because he didn't want to have to clean the cat hair off his clothes (he's a bit fastidious with his dress
)
Of course, my goal is to have more than one cat, while the husband is firmly commited to having only one. Little does he know I have plans bwahaha!
So last night while he was at the dentist, I spent some time at the local petsmart playing with the kitties. There was one that just tugged at my heart strings
http://www.sfaar.rescuegroups.org/an...imalID=1332188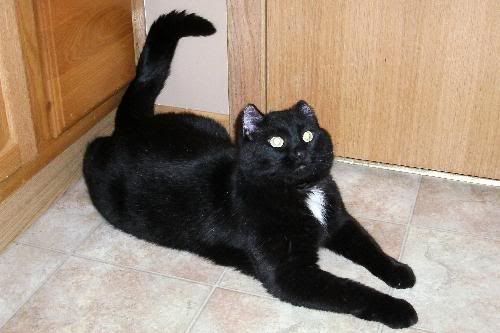 Lopez is a massive kitty who was rescued from the jaws of death (ie euthenazia) by a local animal rescue. He had frostbite on his ears, so half of them are missing. He's a huge love bug who just wants to cuddle.
I took the husband to meet him after his appointment and the husband spent a good 5 or 5 minutes petting him
Granted, we can't get any more cats now (1 cat per apartment limit), but once we more and/or get a house...*deviously rubs hands together*