I finally have more foster kittens! Had a dry spell there, and I was going through serious withdrawals, but finally I have more!
Just brought home last night- a young momma and her three darling kittens. They are at my favorite age, about 3 weeks old. Bright blue kitten eyes wide open, just learning to wobble around and play, come running with their baby mows when I go in to see them... Oh yeah, I'm melted.
Don't have many pics yet, since they're still settling in, so just this one for now: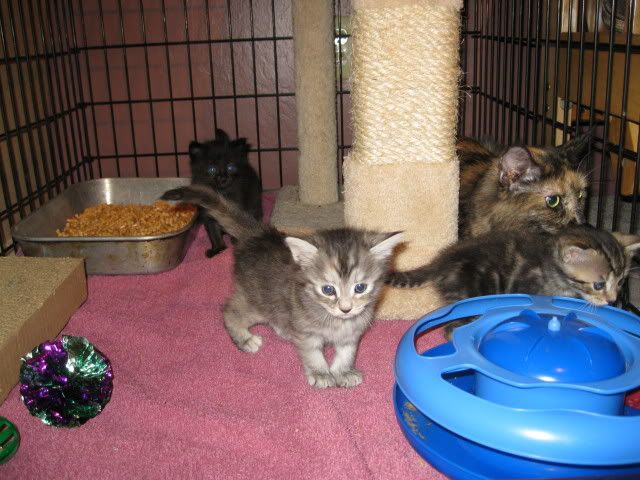 I need names for them! Usually I have a "group name", and then individual names... Any ideas?? I know you guys are usually really good at this!
Momma is a tortie, bigger, lighter colored tabby is a girl, black baby is a girl, smaller, darker tabby is a boy...
I was thinking national parks, but my husband says his work uses those!
I'm also thinking Japanese names for them... Kasan (mom), Kuro (black), Neko (cat), Chibi (small)...
Names I've used: "The X-Pack" (Ex strays), names after Pirates of the Carribbean: Jack, Sao Feng, Calypso, Tortuga, Davy Jones
"The Meow Men" names after cities in Nevada: Lovelock, Reno, Vegas, Sparks
"Bleach Babies" names after the anime "Bleach": Aizen, Karin, Rukia
Individual Kitties: Cronos, Sam
I'm open to any ideas you may have! Thanks!
And don't worry, they don't need to be "make them easier to adopt" type names, when they go up for adoption they go to a different foster with different names!