Yesterday my DH texted me and said that his co-worker had a kitten that was found on the street, 4 months old, female and deaf. They decided they didn't want to keep her because she was pooping in the house.
I said we would take her in - no problems as yet with the pooping. She is a little starlet
Very friendly, playful and loves kids which is different from Peedoodle and Kahu!
She is tiny, and needs a little bit of fattening up but I think she will be okay.
So, I would like you to meet the new addition to the family: Stella!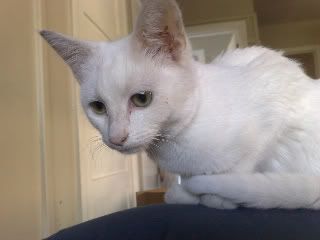 There will be more pictures when I have completed my assignment