Cleo did not win anything and that is ok.
I will try her in the Alter Class in Fresno next month.
She is very good in the benching area.
She hissed in the ring area at the other kittens after a kitten had hissed at her yesterday.
People kept asking if she was a boy or a girl.
Her bed is pink with hearts on it.
People sure had a lot of questions about sphynx.
I did like people pet her after they used sanitizer.
No one had a problem with that.
A lot of people think sphynx or easy to take care.
Goldenkittey I love the feeling of the cornish.
The 2nd best siamese and oriental in the country were there.
I did not get the guys name that has the siamese but he was nice.
He said he is going to Denver or Michigan next.
It was 38 here when we left and 80 when we came back.
I put Cleo in a bunny suit and has a blanket in her carrier so she wold not be cold.
Here is the bunny suit.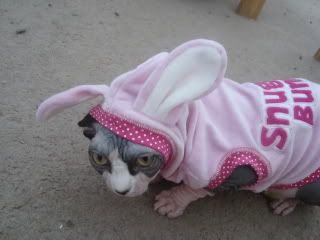 She never wears clothes inside that often anymore because it has been warm. There were so many Persians there.
I loved the Somalis and Oci's.