Hey guys!
Just thought I'd stop in and update everyone on how I am doing since my ankle fracture/surgery. You can check out the original thread here:
http://www.thecatsite.com/forums/sho...ferrerid=31027
Regarding my Recovery & Health:
I went to the doctor last Friday and had my first post-op checkup. They removed the staples (all 31 of them) and said the incisions looked great and recovery is going well. They put on a new splint.
Unfortunately yesterday evening I ended up in the hospital again. I had been having pain in the back of my leg ever since my appointment last week and turns out it was a blood clot formed due to my inactivity since the surgery. Now I'm on blood thinners and have been instructed to reduce my movement/activity even further for at least the next week.
Emotionally I'm doing well though I am having some comflicts with my parents from being stuck with them all the time now. My apartment complex has agreed to move me into a handicap apartment, I am just waiting to see if I qualify for enough unemployment to afford to keep living there.
Oh and I took a picture with my phone of my X-Ray from Post-Op. Hardware Count: 9 screws, 1 plate and 31 staples.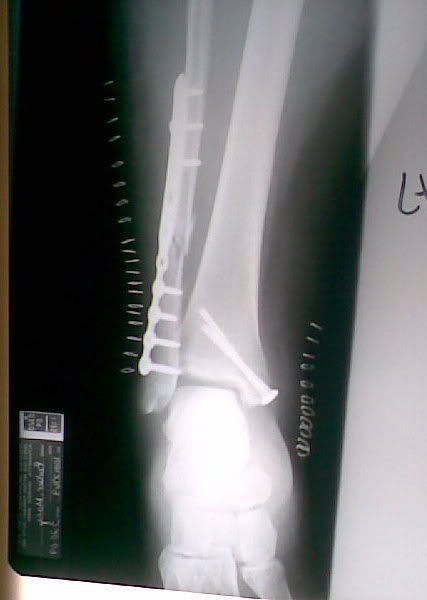 As far as the job thing:
I spoke with my lawyer and he is getting some documents together for me, don't have much yet on that. I have been cleared to return to work in my wheelchair so I have been looking for a new job and I will be filing for unemployment next week.
And for the kitties:
Spooky and Mulder are loving having me around all the time. They have a much bigger house to roam and lots of play time. Also they are crazy about my mom who is staying here taking care of me and so they get lots of cuddling from her too. The two resident kitties are getting along with them pretty well, Onyx loves to play with them and old Romeo tolerates them but still hisses when they try to play rough so that's good.
Anyway, sorry for the long post. I just wanted to let everybody know how I was doing. I hope everyone else is doing well!