I had company over last night and Pixel was being friendly and sweet, and there was nothing wrong with her. I went to bed fairly late (around 2:00 am) and was up by 8:00 and DH was petting Pixel and noticed a bright red spot between her shoulder blades. There was fur still covering it and it was smaller than a dime.
Still, I was worried about her so I called my vet as soon as the office opened (9:30), and they let me know that my vet was out on vacation until next Friday! Poop! But then gave me a number to another local vet that is helping my vet's clients until she gets back. So I called the other vet's office and let them know that it appeared to be a scrape or sore, almost between her shoulderblades and it was VERY fresh and they told me to clean it with cool water and that I could apply Neosporin, and the only Neosporin that I have is the +Pain Relief kind, so I mentioned that to her, and she asked me to read off the active ingredients, and then told me that the stuff that relieves pain is not good for them, so perhaps I should go purchase regular Neosporin!
I had class at 10:00, so I went in to class and turned in my assignment (an algebra class) and told my professor that I wanted to pick up some meds for my kitty and make sure she didn't need to see the vet and she just told me to go on home and take care of her (I don't miss class and DH and I have an A in her class!), so I went to Wal-mart and bought some regular Neosporin. I came home and used a soft washcloth and cool water and cleaned the wound, and then applied some Neosporin. She was very good for the cleaning, but as soon as I put the Neosporin on she FREAKED OUT! She started running around all crazy and trying to lick and lick and lick the spot (that she can't quite reach) and scratching it with her back foot! So I cleaned it again (cool water) to get rid of the Neosporin but she was so mad!
I had a lunch date with my MIL, so we went to lunch with her and when we came home she was still acting very upset and "crazy", licking and scratching. The wound is now much larger, over quarter sized!!!! I called the vet again and explained what had happened, and they told me that I probably still didn't need to bring her in. They said the wound is fresh and not infected yet. It needs to be kept clean and DRY so it will heal and I need to do my best to keep her from scratching it and make it worse. She told me not to put Neosporin on it again because it aggravated her so much, and not to try to cover the wound because it will just stress her out and she will wiggle out of whatever I put on it. If I suspect infection in the next few days, I should bring her in for a check up and an oral antibiotic. She also suggested I attempt to calm her down by providing some of her favorite food, and that I should use soft cotton to clean it.
SO, I used soft cotton facial squares and cool water to carefully dab it clean and dry it (she is a trooper) and then provided some tasty tuna juice, which Pixel LOVES (I gave some to Bamf too, he is being so good today!) and she does seem to have calmed down some. She is now hiding under the couch and napping, and I am leaving her alone because she cannot scratch herself under there. Even though I have cleaned it, it is still very bright red like it is seeping fresh blood still!!!
Does anyone have any advice for me? I am so worried (I am a paranoid meowmy
). Please give us vibes that this wound heals quickly and does not become infected. I have no idea how she could have done this to herself! I hope she is okay. I have attached a few photos in case they help with advice.
Thanks everyone.
This one is to show size relative to Pixel.
Here is a close up.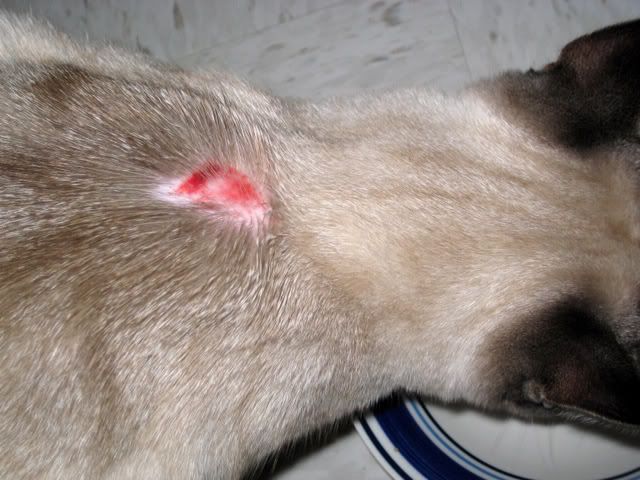 And an even closer up.