We sadly lost 2 of our furkids since December.
Red (who had just moved in with us this past summer with my niece (he was about 10 - 11 yrs old)from kidney failure about a week before Christmas.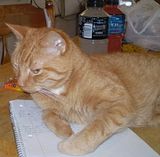 And we lost Frannie (she was 14 years old) at the end of February from a suspected sinus tumor and failing kidneys as well.