First, wanted to say thanks for all the great info on the previous thread! I read all the posts and learned LOTS. I wanted to post some updates and pictures, but didn't want everyone else to have to get all the way to page 3 for that.
The story:
For the last 2 or so years, I've been leaving a bowl of fresh water and food out for any strays or ferals that live near my house. We've seen many visitors in the last 2 years, but one cat - that we named Dorian Gray (reasons are obvious hehe) basically took up residence in my yard. For over a year we saw him every day, all day. Beautiful kitty, really pretty face.
About 6 months ago, another pair of cats started to visit once in a while, maybe once a week if that. One is solid black, the other is gray just like Dorian (but very different face).
All 3 of these cats were/are pretty skinny. When we first started seeing them they were unhealthy skinny... now they are just normal lean cats (like one of my indoor kitties [I have 4 indoor cats]).
In the last 6 months, these two new kitties that travel together have been coming around more and more, and Dorian less and less. Well we didn't see the new gray kitty for about a month and just recently when she showed up again - she is plump! She was originally so thin she looked sick. Now she has a super fat belly, which is especially evident when she walks away.
Dorian and the black kitty (both males) are much braver then the little pregnant-looking female. They will even stay on my back porch while I go outside to feed them, or while I'm out there grilling. The female is extremely jumpy and bolts away if she just sees me through the glass. She's very hard to get pictures of. The other two arent.
Since the other thread, I've seen her a few more times. She's not as fat as some other cats I looked at that are pregnant, so she might not be "ready to pop" as I mentioned in the other thread. I see her about every 3 or 4 days, and she comes by to eat but not stay. So, I don't think she'll be nesting in my yard or if I'll ever even see any kittens.
I did look into spaying/neutering and there is a lowcost clinic that does them for very cheap every other month. I'm not going to attempt to trap her while pregnant, but once she's done - (a month or so later) I will attempt to trap and have her spayed, and both the other two males neutered then returned.
IF she does have kittens, then I will care for them and feed them for as long as they'd like. I'll also attempt to trap and spay/neuter each of them if possible. I may have been too late to stop the overpopulation problem with this batch of kittens, but I will stop it so this is the last batch, and so none of them have any kittens of their own.
Here's lots of pictures.
---------
First, Dorian Gray - the cat that used to live in my yard. He still comes by at least 2-3 times per week for food, but I think the 2 newer kitties caused him to at least find another place to sleep.
Here he is under a chair on a hot day (Atlanta).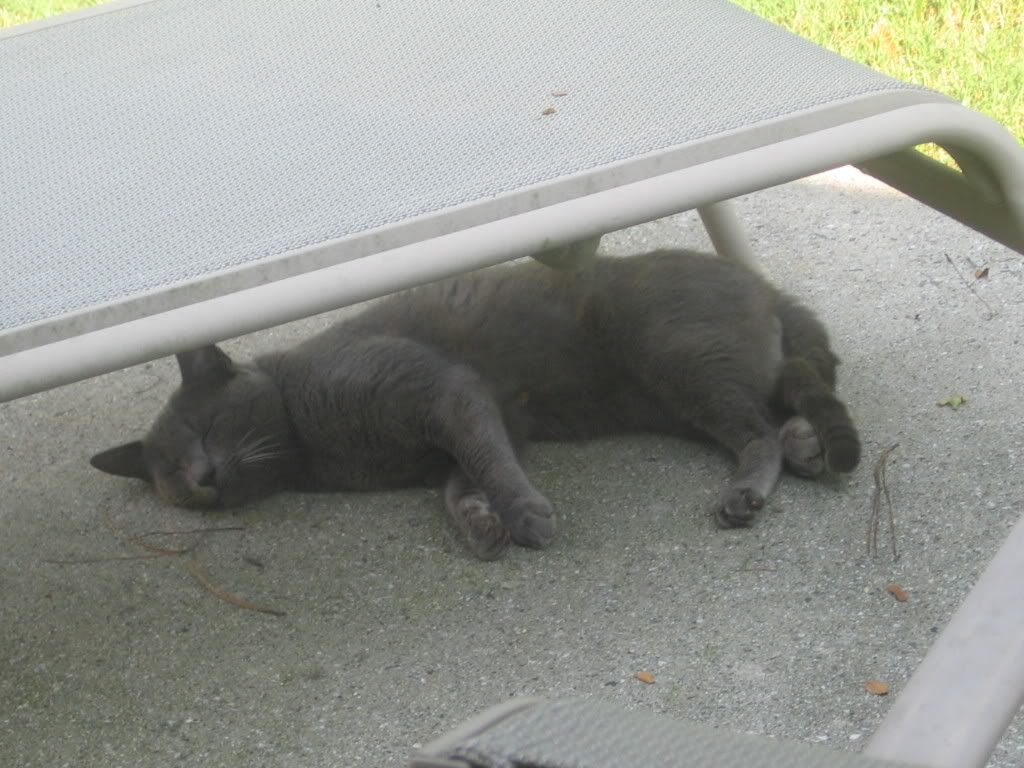 Lounging in the yard...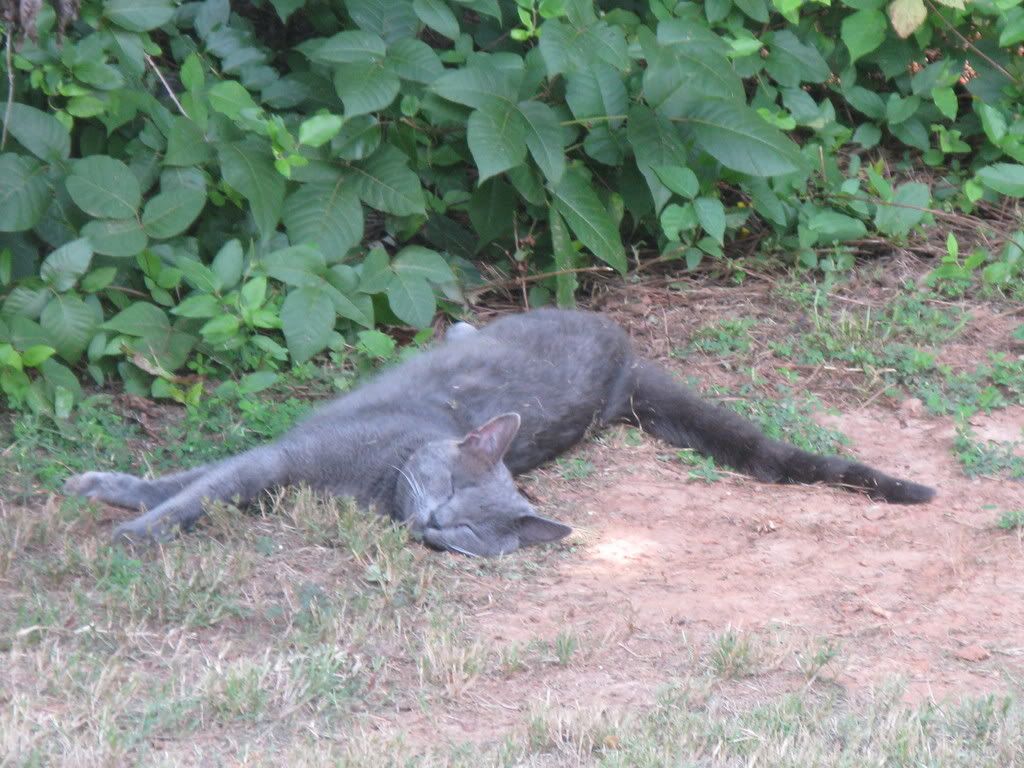 After a rain, nice mohawk!
This is the solid black male that travels with the pregnant looking female from time to time
Lounging under the chair
Here's a shot of the black kitty eating at the bowl, but Dorian watching from the fence post. Dorian runs away when this guy approaches. If you look close in the top left corner, you can see Dorian on the fence.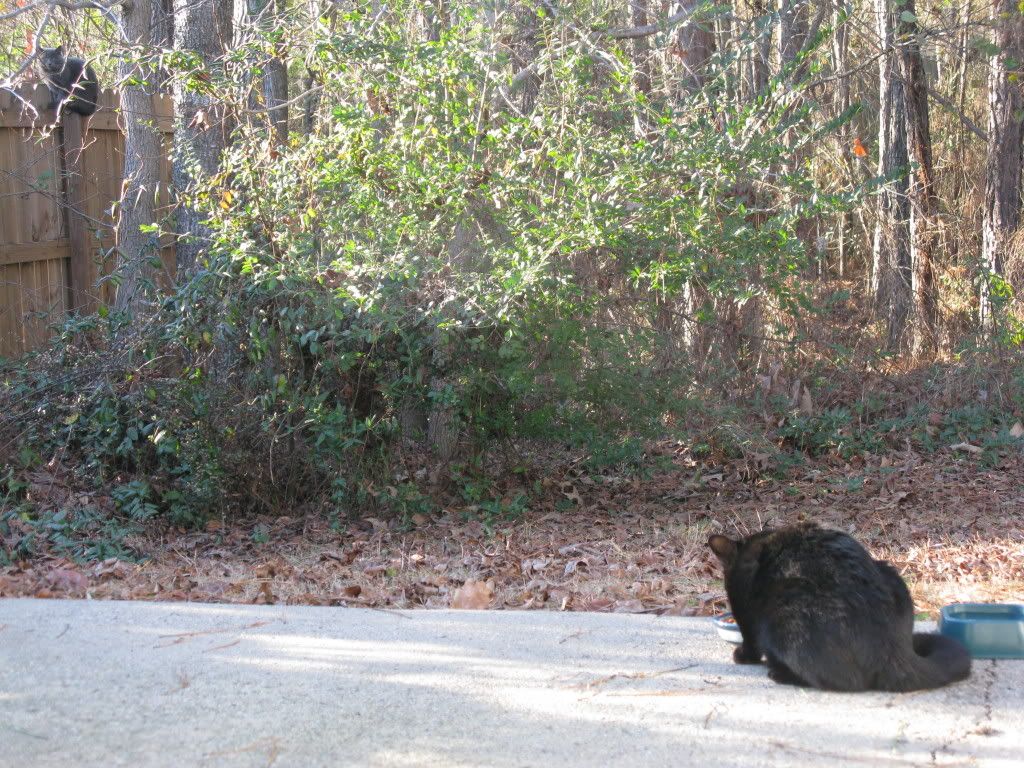 This is the pregnant-looking kitty that we nicknamed Dorian's Sister since they are the same color... even though we know they aren't related. This first shot is about a month old, before she got really plump. Same color as Dorian, but not as pretty of a face.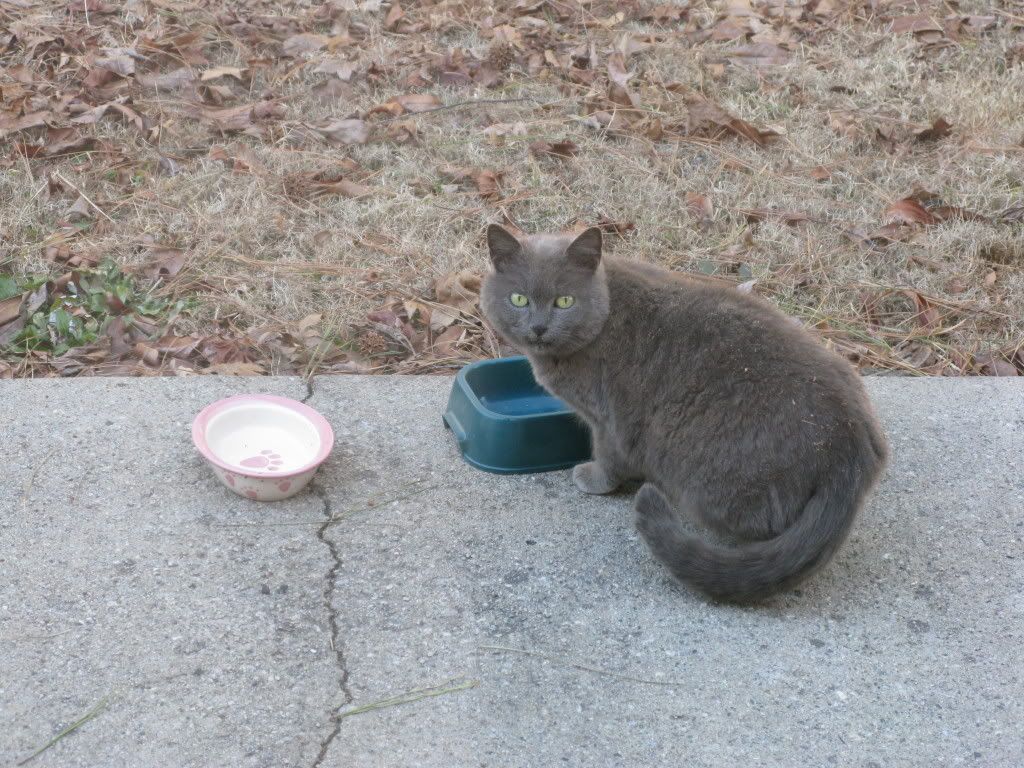 Here she is with the black kitty, they hang out often.
This is a picture of her from just the other day. Hard to see how fat she is curled up eating.
Here she is with Dorian! Until I saw this scene, I didn't think they got along! But apparently she is VERY friendly..... maybe that's why she's pregnant