Hey, some different questions
!
1. How often to you brush/groom/wash Maia?
Maia is a very clean, self grooming kitty! I do take damp clothes over her when she is she shedding a lot, and she gets her nails clipped and ears cleaned regularly........She was bathed a few times as a kitten, but she would not have that now!!!!!!
2. What do you feed her?
Believe it or not, Maia is on a dry Cat Chow diet, she absolutely loves it! She is very healthy, shiny coat, energetic, excellent oral hygiene.......Sometimes she gets a Fancy Feast treat
3. How old is she?
Maia is 3 years old March 15th, Sunday!
4. When is her birthday/gotcha day?
I was blessed to find her May 4th, this is why I named her Maia.....goddess of spring and rebirth...
5. Has she ever been outside?
She will venture out on our back rooftop when I'm out there, but lately it's been far to dangerous......
6. Does she like fresh catnip or catnip toys?
Funny thing, doesn't care about catnip at all!
7. What's her favorite toy?
A black string she loves to fetch!
8. Does she normally sleep with you?
Usually, as long as it's not to warm, she sleeps on me or under the blankets between my legs.....
9. Do you call her by any nicknames?
Squirt, jelly bean, Mishka, sassy, crazy kitty, so many!
10. Does she know any tricks besides fetch?
Not tricks like a dog, but she always comes when I whistle, and definitely knows several phrases/commands like "get down", "no", "wait", "out", "want to go outside?"
11. Was Maia a stray, gotten from a friend, shelter or?
Found her on Craigslist! Went to meet the person the next day and scooped her up out of a duffel bag, tiny little thing that latched onto me and wouldn't let go.........Her she is drinking replacement milk the first day...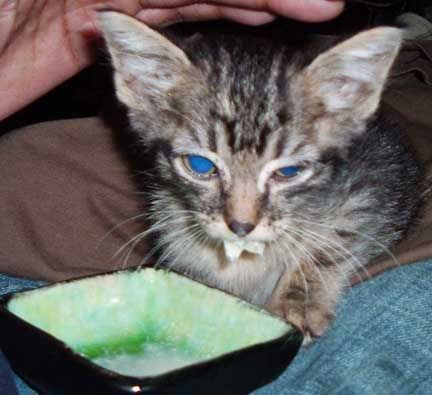 So tiny she was! This one is a week or two later......
12. What funny things does she do?
So many! She loves to look unbelievably adorable any chance she gets! She has had some funny moments I caught on camera, thankfully haven't become bad habits........
She also loves to thread herself through the handles of plastic bags and walk around the house........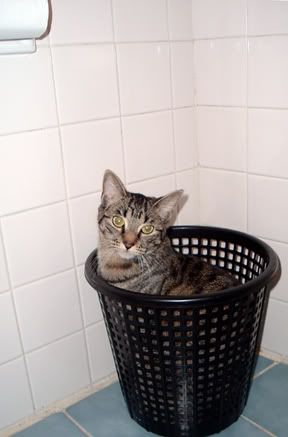 I could keep going!