Well Little will be 6 weeks old tuesday. I weighed him on the real scale at work saturday (instead of the gram scale lol) and he weighed 1.2 pounds!
He has little teeth but is still not interested in eating any kind of big boy food at all. I have tried baby food, canned food (several different kinds), dry kibble, kibble soaked in KMR, KMR mixed with baby food and canned food, chicken etc etc etc and he wants none of it. I feed him about 4 times a day with the bottle. I don't know where he should be by now as far as that goes but it seems at this age he should at least be showing an interest?
He still can't potty w/o stimulation, although he is getting pretty good at the peeing part. My other cats still aren't super thrilled about having another around but are really great with him and when he gets annoying they just leave lol. He is getting pretty playful and would rather be down on the floor roaming around then snuggling with me anymore! How do I discourage him from attacking my feet? They seem to be his favorite plaything. He also has started playing with a few of the cat toys that are laying around. One in particular, a pink and gold foil crinkly ball, he will carry around in his mouth from place to place.
And as always, here are a few new pics of the little monster
Playing with his big brother's tail: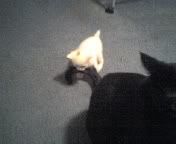 Sneaking a nap in the comforter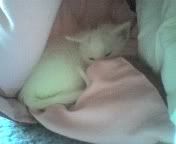 Camera shy? No way!