About a year a go a pretty vocal tabby(looks about 1, 2 years) somehow got into our garage, after a few days we got her to leave, and thought nothing of it.
Now this winter, turned to every couple of weeks, turned into every couple of days we get visits from her again. I can't blame her because I leave food and water for her each time, I don't mind. And it gets pretty cold where we live, so we didn't mind providing her with warm shelter.
But about a week or 2 ago, when I called to her like I unusually would, she came right over to my door! She was even trying to paw her way into our room, using her head as well. But we can't let her in because we already have 2 cats, and she might be aggressive, or have a disease she could pass to them.
Eitherway, I was hesitant with her because she was a stray, but she got extremely friendly with us. She kept rubbing by the doorway, rubbing on my boyfriends shoes, kneading all over our welcome mat until she fell asleep, and waking up to roll around.
All friendly signs, so we went out to interact with her. She would follow us around, and jump up so that she could nuzzle her head against our hands.
But then she would randomly hiss? She even gave me a warning bite when I was petting her as I previously was.
I don't go out to interact with her anymore, but the moment she hears my voice she'll call back for a while, then run right to the door. Yesterday I even watched her purr and fall right asleep by the door, I had the door wide open. It seems that she feels safe, so why does she randomly hiss?
She's giving us conflicting signals, and I don't really understand her. My boyfriend is starting to get tired of her hot & cold behavior.
Any insight/advice
towards this situation would be
VERY
appreciated, because I'm lost with this cat. I want to help her, but I don't want my other cats, or for anyone else to get hurt.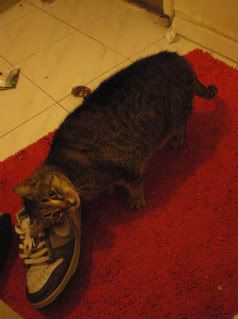 She also basically walks around kneading, I've never seen a cat do that before.