OK this is quite a long story, but I'll try to keep it short. A number of months ago, my friends received a call from a taxi driver who had been feeding a particular stray dog who hangs out at an industrial area. This taxi driver had been feeding him for months, but while the dog was friendly, he would never let the taxi driver touch/pet him.

One day the taxi driver noticed that some !&%$#&!$ person had tied a wire VERY tightly around the dog's waist. The dog was having trouble sitting, and kept regurgitating whatever food it ate. Naturally the taxi driver was concerned and called for help.

A small group of us went down one night and tried, but failed to attract the dog with food. Two nights later, I went down with another friend who does cat rescue work, and the taxi driver. We laced the dog's food with sedatives, but he refused to lay down and sleep. Instead, he kept walking and walking, all around the huge industrial park area, with us following at a distance. We even spent a few hours sitting inside the grounds of an incineration plant.. Oh the smell~ In the end, we gave up. My friend returned the next day with a professional dog/cat nabber, and managed to get the dog to the vet for medical attention that he so urgently needed.

So what on earth did that story have to do with VDay? Well, this dog was rescued and is now housed at a dog rescue centre. We knew the name of this place but didn't know where it was located. Somehow, or maybe it was the will of the heavens, but we stumbled upon it one day. Lo and behold, we saw that dog! The feeling was wonderful - to see him so happy and well, especially given that we thought we'd never see him again.

So this VDay, both of us pooled some money and bought 3 whole cartons of wet food and donated them to this dog rescue centre.. and that was a really happy VDay


Look at that face! Such a handsome boy... You can also see that darned wire at his waist.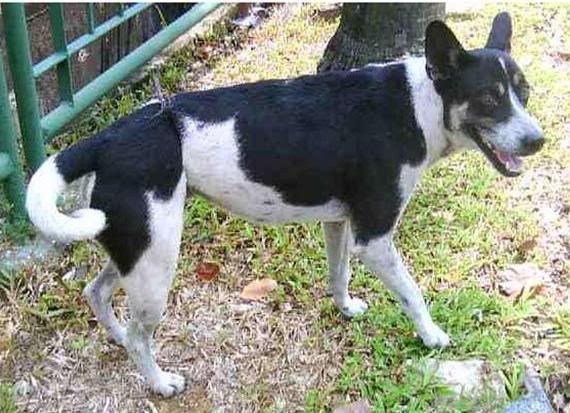 Cutting into his flesh. It was so bad that when the vet removed the wire (dog was sedated), red ants poured out from his wound! His pain must have been unimaginable...