Hi all! I just recently adopted a 9 week old kitten. His name is Poppy. He's really sweet and really energetic.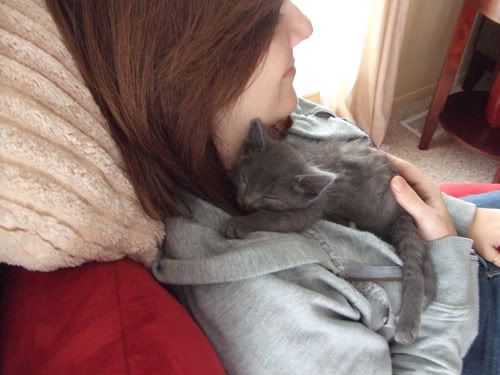 I bought him lots of different kinds of toys so he wouldn't be bored while I was at work. I also bought him the Ultimate Cat Scratcher. The thing is huge!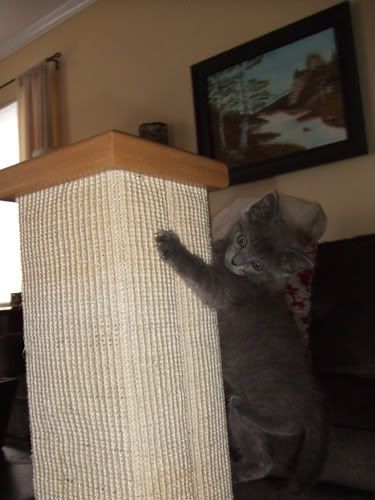 I already started changing (mixing together) his dry food, from what the vet was feeding him to a low carb dry food (I've been reading
Your Cat Simple New Secrets to a Longer, Stronger Life by Elizabeth M. Hodgkins
)...but he has really bad diarrhea now so I'm going to wait to change is food until he's older. I want him to be as healthy as possible. I want to take care of him as best as I can because I feel like I failed my last cat.
I had a black cat, named Monti. He was 3 1/2 years old and he was the best cat ever. Loving, playful, silly, talkative, majorly cool personality. But then he got a lower respiratory infection last spring and it lasted a long time and he took alot of medicine for it. He got better but one day early in December he collapsed and was having a hard time breathing. His lungs were full of fluid. I took him to the hospital and he had chylothorax and they had to figure out what was causing it. They drained his lungs but the fluid came back in one day, they did it again and it came back almost faster. He was in the hospital for 5 days while they ran tests and then they called and said they needed to do a CAT scan and wanted to immediately do surgery. It would have cost $10,000 (on top of the $3,500 from everything else). I don't have that kind of money and I had to make the hardest decision ever and had him put to sleep. I feel like I failed him because I couldn't afford it.
I miss Monti so much and I hope that getting another kitten this soon wasn't the wrong thing to do. I'm really enjoying Poppy and hope that he stays healthy.
Sara