I hate to use my first post to vent, but here I go...
I lost my kitty, Destiny, to CRF. It's been harder than I ever thought it would be. It was diagnosed just after Christmas. It came on out of the blue, it seemed. We moved in November and we thought that she was just having trouble adjusting to the new house and our new schedules but the vet did a variety of tests and showed us that she had the polycystic thing with almost the entirety of both kidneys with cysts and massive loss of renal function. We kept her at the vet and her blood levels improved somewhat and the vet said that it was ok to bring her home and see how she would do. He was not very optimistic due to the severity but he said that he had seen some recovery in worse cases.
She was never the same thereafter. She didn't move much except when she had to go to the bathroom or, more and more rarely, to eat and drink. She got weaker and weaker and she couldn't move around much at all and we were giving her water with a syringe. She still loved for us to pet her and, even though she was not all that affectionate in her life, she responded very well to that comfort and would purr a lot (rare for her...she always seemed too dignified to do some "normal" cat things).
No matter what treatments we gave, however, she lost more and more weight and ended up, at the end, urinating so much blood that there was more blood than urine.
My eldest daughter and I took her to the vet for the inevitable. I hated that ride more than I can say. I felt (and feel) powerless to do anything more than give her a better end than she would have had if the condition had run it's course. Growing up in a rural area, we had plenty of animals die but this was far different. My wife had given me this cat not long after we were married and she had been with us all that time...through the birth of two daughters and lots of life. My wife is allergic to cats, which made the gift all the more throughtful, as my wife had to build up some tolerance for her as a sacrifice for me.
Anyway...I thought that I would post something as a tribute to her so that someone other than me and my family would have some inkling of how we felt about her...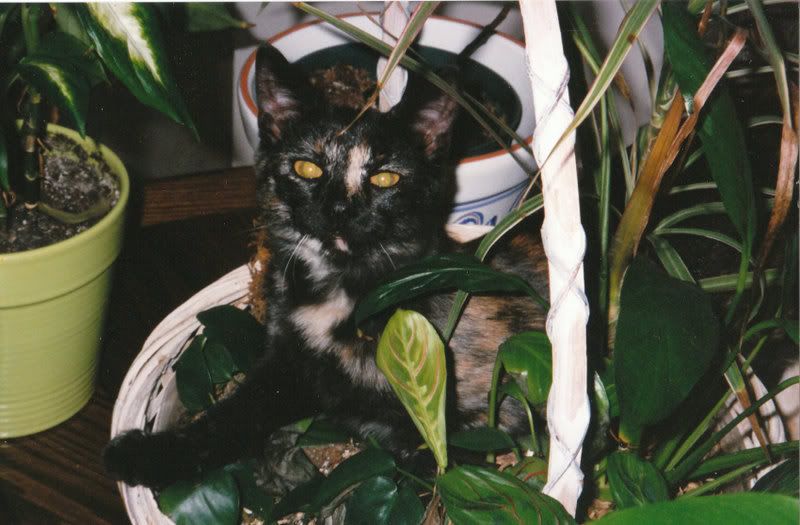 I'll always miss you, Dessie.