OK, OK... I probably brought this on myself, but it was soooo funny. Working an extra shift looking after our storefront cats. I packed a turkey sandwich ( with a little extra meat on it). My intent was to share with the kitties as a special treat. Well, little Petey had something ELSE in mind.
He LOOOOOOOOOVED the turkey meat. I mean LOOOOOOOOVED it!!
He and another kitten, Andy, helped me eat my sandwich. Petey climbed on me- insistent, determined to get that yummy turkey - OK - he helped me eat my sammy - lettuce, mayo,bread and all... me nibbling from one end... him from the other. Andy helped. But he wasn't so bold as to stand in my lap and wrap his front paws around my arm to make sure the sandy-wich didn't GO anywhere!
Man you would think this little grey tabby and white kitten hadn't eaten in days the way he was behaving. Visitors there to adopt another kitten were laughing their butts off!
This is Petey: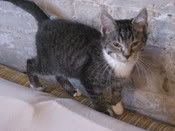 This is Andy:
I
them both!!
Then Andy came up to afterward, got up on the little step-stool we use and tapped me on the leg, looked me right in the eye to ask for more... but it was all gone! Awww!
Can you tell I love my volunteer work?