Hello Everyone!
I am new to the forum and would like introduce myself and my cat, GiGi. My fiance and I adopted GiGi last year from a shelter and immediately fell in love with this bundle of joy. He is a year and a half old. GiGi is full of life and always on the move. He is friendly, playful, affectionate, and loving. We were told that he was a Himalayan breed, but after researching and comparing pictures, we're not sure what breed he really is. He has perfect markings and bright blue eyes. We couldn't be happier with our addition at our home. He is truly one of a kind. Here are some pictures.
Enjoy!
at the shelter, love at first sight!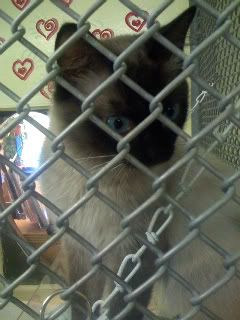 after getting adopted, loving life.