Just wondering, for those of you who feed a balanced commercial diet,
do you add a fish oil supplement in addition to the food
?
Tofu is apparently having some pretty severe skin issues right now and although the vet suspects it's allergy-related, he brought up the point today that sometimes overdoing the oils can cause skin problems, i.e. itchiness.
Tofu is fed mainly a wet commercial diet with approx. 500 mg of fish oil nightly. I'm trying to figure out if I'm "overdoing" it and causing more harm than good. He's battling a case of ringworm right now and has 5 sores on his face. The vet said these are not typical ringworm lesions and highly suspects something else is going on and then the ringworm is a secondary infection and not necessarily the root of his itching problems.
Here's one of the five sores on his face currently. The rest are under his chin and on the other side of his face.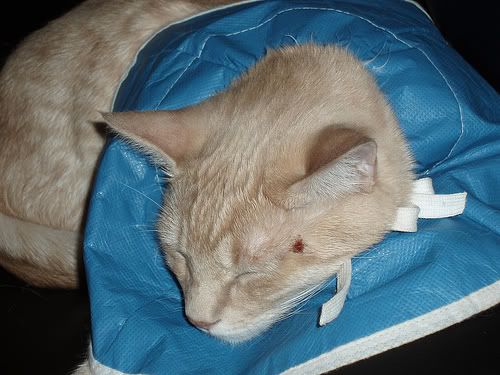 Thanks!
[Edit]
I forgot to mention that on top of the wet, he gets about 3 meals of raw every week.