Late last night, and during the night, Lily has been making a pre-hairball huffy and sort of sneezy sound. It
sounds
like she is blowing dust out of her nose.
Her eyes are clear, she is eating and using the litter box, and she is in good spirits and playful. She snuggled with me last night which she didn't do the time she got a fever from her vaccinations. I gave her some hairball medicine.
She has a heart murmur that has been downgraded from a 3 to a .5 in the three years she's been in our family. She's five years old.
I don't know if this is important, but we did have a slight basement flooding problem and the clean-up crew has fans and dehumidifiers running all night downstairs. She hasn't gone down there, though.
I am going to take Lily to the vet, but my question is
do you think this can wait until Monday morning when I can take her to our vet
whom I like and trust, or does this symptom warrant an emergency vet visit this weekend? (I'm afraid my past experiences in other cities have left me without much confidence in emergency vets - no offense to anyone.)
If I notice other symptoms (what should I look for?), I will take her to the emergency right away, but I appreciate
any
advice you might have!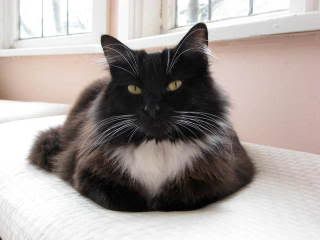 Lily says thank you, friends!