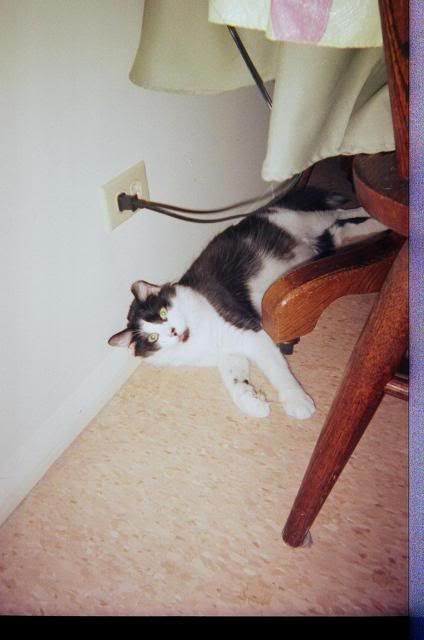 One year ago, my hairdresser brought over two street cats her group had rescued.....the idea was that I was going to foster them until they were used to apartment living and then adopted out. They were litter mates. I closed them up in my dressing room/bathroom, with food and water and litter box, so they could get used to a space all to themselves, and within a week I had changed their names and decided to keep them.
Everyone told me this would happen.
Lena was the bolder one, and Larry followed and eventually would do whatever she did. He was very, very shy.
Lena passed away from FIP in May, and Larry became my big, fluffy, lovebug. I'm pretty sure he transferred all of his attachment to his sister to me.
This cat came along at the perfect time in my life...I've already mentioned in an earlier thread about being diagnosed with breast cancer, so I won't go into that, because treatment is going well, and I'm feeling incredible, battling the beast.
I'm
sure
part of my feeling so well is that I can come home to this bundle of fluff, who purrs, cuddles, makes me laugh, looks directly into my eyes, and offers unconditional love.
I look into that little face, and push my face into his furry tummy and laugh at his antics, and he makes me supremely happy.
I have no idea of his real birthday....we think he's a little over two now....but it's appropriate that I wish him a "Happy Gotcha Day!" With tons of love!