I can't believe we have 3 cats now!
Back in August, my SO's sister adopted a black kitten from the humane society. I took some pictures of him and put them in this thread:
http://www.thecatsite.com/forums/sho...d.php?t=175181
One of the pics from the thread:
I was happy for her, but nervous because she has had cats in the past and they tend to go 'missing.' In November, she started making comments about what a handful he was (and he is, lol). She would jokingly ask us if we wanted him. I wasn't so sure that she was joking.
I volunteer at the humane society, where I take pictures of the adoptable animals for our website and petfinder. I was looking at our website to find pics that needed to be replaced and I came across this guy, a black cat named Henry and labeled as 7 months old. It said he had been there since November 30th, 2008. I could tell from his animal ID number that he had been previously adopted and then ended up back at the shelter. This was the picture I saw: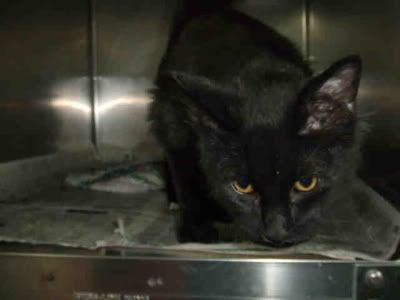 I wasn't sure it was the same cat, but I was suspicious so I told my SO. He contacted his sister to ask how Henry was doing, and she replied by saying that he had gone missing and she hadn't heard anything.
This was on December 10th.
We told her he was at the humane society and she acted like she was going to go get him. She didn't. On Friday, December 12th, my SO went over on his lunch break to put a 24-hour-adoption hold on Henry. He decided that if she didn't go re-adopt him, that we would take him. She knew he was there yet was making no effort to run down and get him (wouldn't you want to do that?). Plus, the shelter is the only one here and it's the first place you look for a missing pet! On Saturday, December 13th, I was at the shelter volunteering. I looked it up in the computers to make sure it was the same Henry (it was), to see if they called his sister (they did, multiple times). He came in on November 30th as a stray, kept him for the stray period, and put him back up for adoption. (Thank goodness this was winter and not the middle of kitten season, and that there weren't already a million black cats there).
My SO told his sister that we had a hold on Henry and that if she wanted him, she had to go there that day. For some reason, they didn't place a little "i'm on hold" sign on his cage so people kept trying to adopt him all day. The first couple picked a different cat after finding out that Henry was not available. A woman came in later who did really want him and was not interested in any other cat. She found out that he was on hold and was going to put a second hold on him (in case we didn't adopt him). So we had until 5:00 to adopt him. I called his sister at 4:30 to see if she was coming, and she had some story about not having her purse with her (???) and she thought she had until 7:00 (my SO mistakingly told her that the shelter closes at 7, which they do on weekdays but not weekends).
So I adopted him. I haven't posted until now because I wasn't sure if we were going to officially keep him. There is nothing in the adoption contract about re-homing, but I'm really uncomfortable with the idea (for obvious reasons). The shelter knew the whole story (I volunteer there), but it still made me feel icky. I was hesitant to put this whole story up here because I didn't want people to be upset about the fact that I was willing to have her take him back (we really were not looking for a 3rd cat...). When I adopted him, I told his sister that she could have him if she (a) kept him indoors only, (b) kept his micro-chip and license in my name, and (c) did not re-home him. She never came to get him. We told her we'd be happy to keep him. Over Christmas, my SO asked her about it and she made comments like 'I never asked you guys to get him' and 'fine, I'll pick him up.' She hasn't...and we're not pushing the issue.
This was his first day home. I've never seen a cat just waltz right in and feel comfortable with the new place. No hiding under the bed, nothing. We tried putting him in his own room but he just darted right out and ran to the couch, plopping down as if to show who was boss. He played for a long time with Da Bird.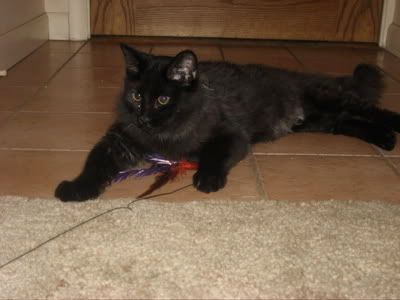 I love this picture, you can see his pretty Black Smoke coloring. Black cats are hard to get pics of!
He's now been in our house for 3 weeks and I don't think he's going anywhere.
It's starting to feel permanent. Our cat, Matilda, was surprisingly uninterested in him. Chloe was hissing a lot for the first week but they are starting to play with each other ('starting' being the key word).
More Pics: