Hi everybody,
Firstly not everyone knows I come from a long line of cat lovers - so here's a photo of my Dad in 1977 as a fresh faced 9 year old at a cat show in Tasmania - my Nana was over in Australia judging and my Dad got into the local paper!
. The cat in the picture is a Persian, imported from NZ.
Here's my Dad: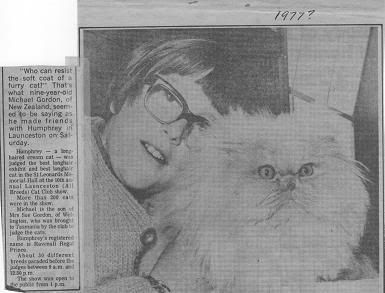 Second I'd like to share this video of my kitten Fluffy. It's really cute, I love her yawn and her head bobbing. You can visit the link
here
Thirdly my kitten Bart (Captivating Twice Upon A Time) went to his new home last Saturday I didn't want to post until I heard from his new owners that he was happy - I'll post some photos of him in my next post. I miss him dearly.
Let me know if the link doesn't work,
Cheers
Sam