About 3 1/2 years ago I started nannying for a family that had two young girls, a 2 1/2 year old and a 7 month old. They were both busy, and I wanted something to use instead of constantly holding the baby. I looked up carriers and came across a babywearing forum much like this one. Once I found that site and got my first carrier, I don't think I ever used a stroller again. Over the years I have used many different carriers and slings, and my two favorite are Mei Tais (MTs) and wraps. I now make my own MTs.
I haven't had a chance to practice using wraps very much since I got my first one shortly before I stopped nannying for the girls. I'm pretty good at wearing babies in a wrap on my front, but I've never been successful at wearing anyone on my back in a wrap except for stuffed animals. LOL
On Monday my friend was packing up to move out of town that evening and she wanted me to watch her kids most of the day so they wouldn't be in her hair. She has an 8 year old, a 4 year old, and 2, almost 3, year old who is tiny. I have an almost 10 year old so he and the older two played alone most of the day which I was happy about (so I got to read some of my recent book
The Time Traveler's Wife
. My friend asked me to keep the 2 year old up at all costs so she would sleep in the car that night on the way to their new home in PA. I was doing good, as was she, until we got in from a long stretch playing outside. She was being a huge stinker, getting into things she knew she shouldn't, and just being all around cranky. I put her on my back just to keep her out of things and she fell asleep instantly. Seriously she was snoring in about 30 seconds. LOL I was extremely proud of myself b/c this was the first time I was successful at doing a back wrap, and I did it on the first try!
This wrap is called a Tibetan Rucksack (Tibetan b/c of the cross in the front, Rucksack b/c it looks like she is sitting in a little sack) with my Didymos wrap.
Here are a couple pictures.
I blurred her face b/c it isn't my kid and I didn't get permission to post her face on the web. Please ignore my clothes (I felt like crap and still do, I slept for 18 hours that night and last night) and my dirty bathroom mirror! LOL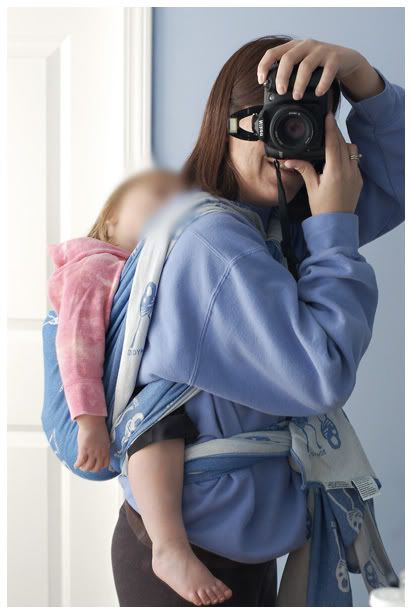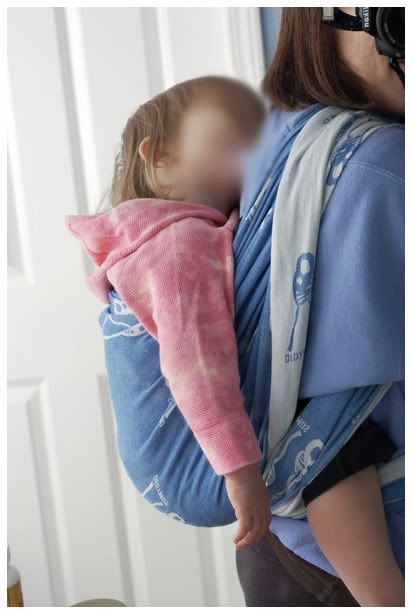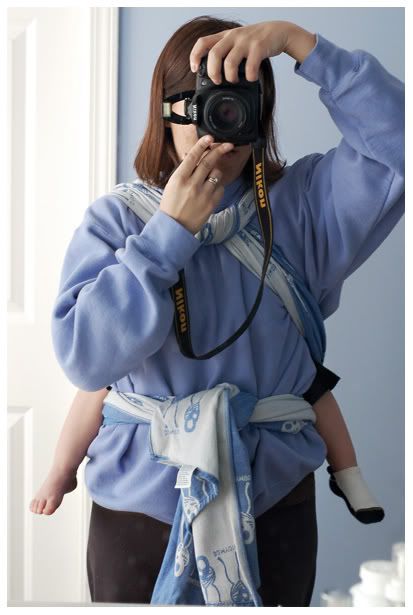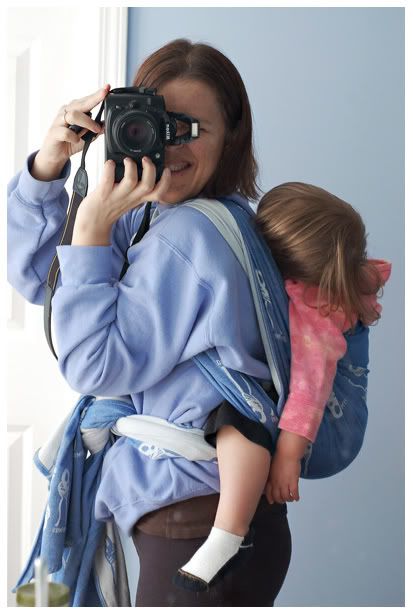 This is my favorite photo. She decided to tuck her arm in here, and by the time her mom came to get her both arms were tucked in.