Hey everyone, nice to meet you all, and great forum! I joined last night and have spent a good amount of time reading lots of information and looking at TONS of adorable photographs!
I am Anna, I breed fish and I love crafts, I will read almost anything & I love movies. I am 27 in January, I got married in June, and I share my home with one incredible husband, several fish tanks, and two amazing cats. We fostered for years (although we don't any more, due to political issues with the rescue group) and enjoyed it for the most part. I only kept one cat in all my years of fostering; you will meet her shortly.
The cats....
Cage
is 5 years old, neutered, and too clever for his own good. He is black & white, some would call him a patchy Tuxedo, but I call him The Pinto. He is a Domestic Shorthair (DSH), also known as a "cat mutt". He has many nick-names, some are inappropriate for a family-oriented forum like this, haha. He fetches, he walks on harness & leash, he suffers from hypervocalization, and he 'waves'. He is
very
bonded to me, although he is easily friendly with everyone. He is our 'Diplomat', and has always been a very good brother to any foster cat we had; he teaches the ferals to trust people. An amazing boy, I rescued him (he was my first rescue cat EVER) and his sister (who got adopted) from a drug house. We used to live in a smaller town (just moved this summer) and he was a Pet Therapy Cat at the hospital there, visiting the elderly and terminally ill patients in the Continued Care Ward. He was an exceptional Therapist and often I would find myself in tears; the way he brought people around and reached out to them no matter their state of mind was incredible. Animals are amazing.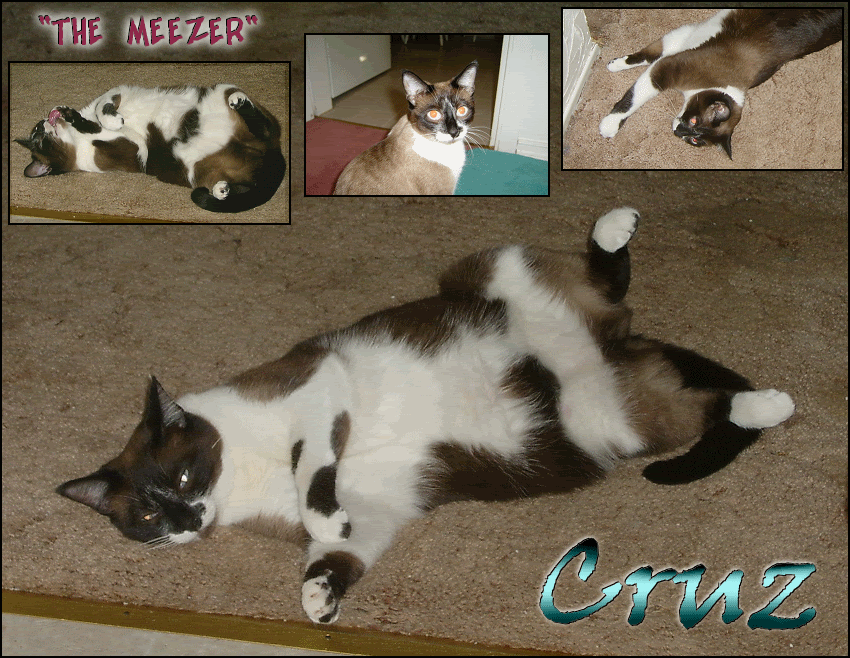 Cruz
is 4 years old, spayed, and too sweet for words. She is many shades of brown and tan and black and white, and is of the breed Snowshoe Siamese, with beautiful blue eyes. She is affectionately known as "The Meezer", or "Cruz-A-Meez", or "Sweet-A-Meez", and everything she does is "something-A-Meez", as in, "Cuddle-A-Meez", or "Groom-A-Meez", or "Sing-A-Meez". (My screen name is PintaMeez, with respect to my cats' nicknames, as you can probably figure out by now). Cruz was the only foster cat (of about a million) that I ever kept. She chose me. She is typical of the breed in that she is bonded VERY closely with me, but she is very sweet and friendly to everyone she meets. She has some female attitude and takes a little longer to warm up to new cats, but eventually her sweet nature wins. I have considered trying Cruz as a Pet Therapist - she is a gorgeous girl and makes fans easily - but I do worry she could too nervous by nature (and get nippy), although she does seem to be mellowing out as she grows older.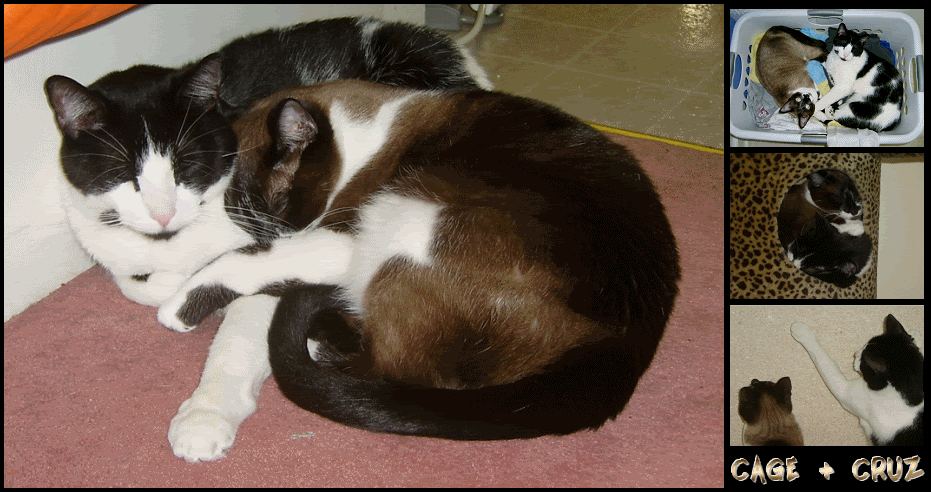 Well, those are my fabulous babies.