Ok....long story short, for the past few months we've delivered a meal once or twice a week to this family, a mom, dad and nine year old daughter. The mom had a car wreck in May, and is just now starting to have more "up" days than down ones, physically and mentally both. She's unable to stand and cook, so a couple of her friends have been having food sent in at least once a week from us.....matter of fact, since we've gotten to know them, we've taken it upon ourselves to take it a few times w/o payment....there's another story there, not getting into it, lol.
Anywhoo......Earlier this year, I started a new dollhouse project, and just before Thanksgiving, I asked the mom if we could give it to her daughter for Christmas, would she like it, etc. She said yes, and that it was ok......I dropped it off Tuesday night, and I swear that I don't know who has enjoyed it the most, the daughter, the mom or the mom's mom who lives next door, lol! We had been invited to come for Christmas lunch with their family today, so took a dessert and went.....The little girl's mom thanked me over and over, was just so overwhelmed that she was at a loss for words.....and cried. It's hard for her, I know, because from all I find out about her, she's always the one doing and giving to/for others....is difficult being the recipient at the moment........but she's getting better, and we're starting to see the "old" Brandie show back up.
Now.....for what I've been promising a couple of you for a month now......since I got it done, a few pics of the house. It's just a small one, and I can show you every flaw....but they are tickled.....so I guess that's all that matters. And apologies in advance for the pics.....I still just have my phone camera......but they're better than nothing, I guess!
The "front"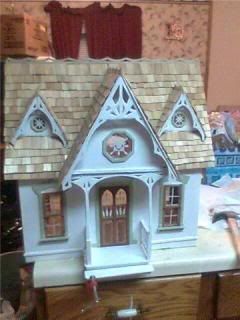 One end, this one has a bay window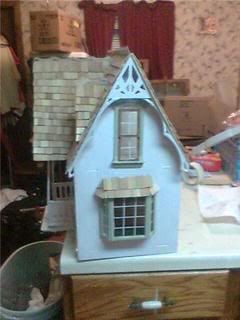 The upstairs, this is the bedroom.....walls are deep blue, carpet is brown.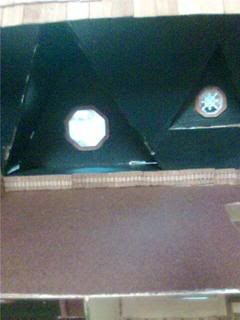 The upstairs, this is the bathroom, just before I finished the "tilework"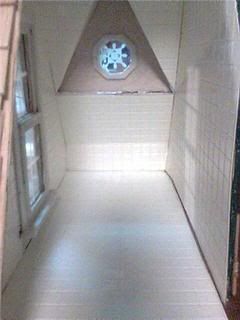 The living room downstairs, has the bay window, walls are Dark green, with a stained wood floor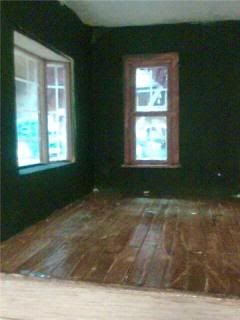 The kitchen, walls are yellow, and the flooring is printed paper, with the same finish on it as the wood floor, which yellowed it a bit, making it match the paint!