Hi, I'm new here...
I'm owned by 2 mixed breed felines. Midori and Aya.
The principle reason I joined is that I have just embarked on an interesting rescue journey with Aya, my new cat, who was found in the middle of the street 3 weeks ago as a month old kitten.
Aya is now about 7-8 weeks old, and completely crazy... Here's one of the few good pics I could get while she was holding still..
While I've loved cats all my life, I've never had a kitten, much less a rescued feral one and I've never owned a cat in Japan before. My family has been fans of the adopt an adult cat method for years... I'm hoping to get some advice on raising a well-adjusted feline and finding a way to get her back to the States when I leave here in a year and a half.
When I left the States I was very sad to leave Midori and cat companionship behind with my family (she is officially a family pet) although she will tell you I'm her preferred human when I'm around.
Midori (better known as Squeaky or Squeaky Kitty, she doesn't meow she 'Eeps' and 'Eeks'). My brother describes her as the "7 toed sloth" which somehwat describes her personality as she enters middle age. Yes, we've got the New England polydactyl thing going on. She's all big green eyes and feet. Lucky she's a very mellow cat (the Vet and my former employers, love her!) and willing to get her many toes trimmed regularly without complaint. she has a couple wonky ones that grow down in between her extra 'thumbs' and normal paw which she cannot flex or sharpen.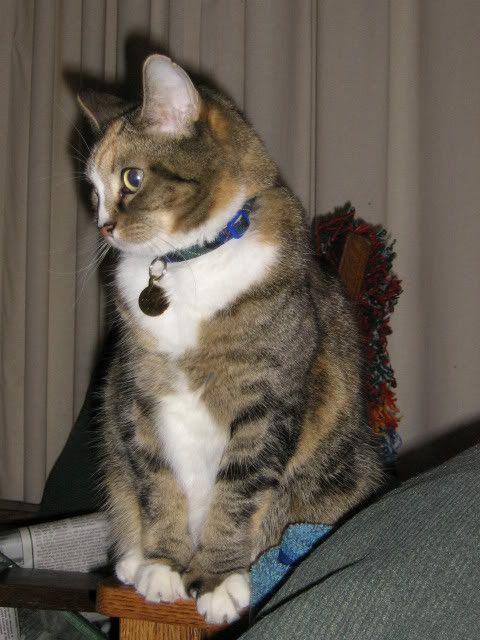 Close-up of the big feet, and one silly cat trying to origami fold herself into a breadbasket too small for a 9 lb cat!