Hi, I'm new here.
My name is Erica and my cat is Ricky Bobby. I adopted him from the shelter about a month ago, he's 7 months old and he is hyper! My husband and I fell in love with him as soon as we saw him at the shelter. We went home to pray and sleep on the choice, it was between him (around 6 months at the time) or an 8 week kitten. Being my husband's first cat, and he was very hesistant about even getting a cat, I figured an older cat, but still young, would be a better choice. And it was! Ricky Bobby is great! He is very affectionate and loves to play. He taught himself to fetch and it is hilarious! He only does it with his fishing rod type toy, it's his favorite toy and him and my husband will play with that forever! It's so funny. He is not aggressive at all. He has been great so far, aside from a few adjustments of course. Well here he is......
Ricky Bobby!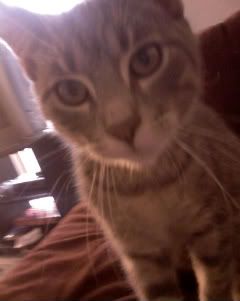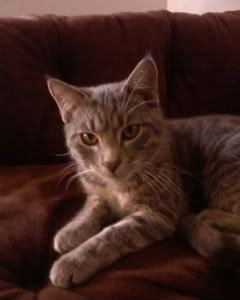 Those are the only 2 pics I could get of him, he's so curious and has to be in the middle of everything. Miliseconds after I snapped those he was pawing at the camera and wanting to play with it.
Now a little about me, I'm 21 years old, no kids, newly wed, we've been married for 14 months and I'm loving it! I work full time as a customer service rep for an insurance company. And I'll be going back to school in January to get started on my basics so I can go to school to be an ultrasound technician. I look forward to getting to know everyone here. I've kurked for about 2 weeks now, and from what I've seen it's a great board with lovely cat lovers. My kind of place!