Summer of 1999. I was living next door to my mom. ( I have 6 siblings, 5 of which are dramtically younger than me). I had my one daughter in 96.
Both my mom and I adopted a puppy. My mom adopted Brandy because my siblings wanted a pup, and promised they would take care of it. I adopted Misty because I wanted a companion, I was a single mom at the time.
Unfortunately I had to find Misty another home, as I found out I was pregnant in Oct. (unexpectedly). I kept Misty, and tried my best to keep her.. I was sick alot through my pregnancy and could not train her well. When my daughter came along in July 2000, I just could not handle both the new baby and a puppy. We found Misty a good home and I just kept my kitty.
I moved in 2002, to a townhouse with a fenced in yard.
Brandy did not have a very good life at my moms. She was gotten for the wrong reason...(because the kids, my siblings, wanted a dog). They took care of her for the first 6-12mos, then their interest dropped. Both my parents worked, so it was my siblings responsibility to take care of Brandy. They were very lazy, and Brandy would end up spending 18hrs in a cage, or left outside chained up all day with noone checking on water. She was fed a cheap food. She was skinny, infested with fleas (which she is allergic too) and had soooo many sores on her body from biting at the fleas... what fur she had was mangy and thin.
I offered to adopt Brandy from them, as noone spent time with her. Keeping her in a cage was not fair to her at all. My mom agreed, she knew she had made a mistake in getting Brandy, and in 2002 Brandy came to live with me
At this time, with a 6yr old and 2yr old, I was able to care for her.
I got her to the vets, put her on meds for fleas, and experimented with foods till we found one that worked for her. In bout a year, she had a full coat of gorgeous fur, and she was approaching her target weight.
She's done great with me, moved into our own house in 2003 where I went from a single mom, to having my now-husband, and my two kids.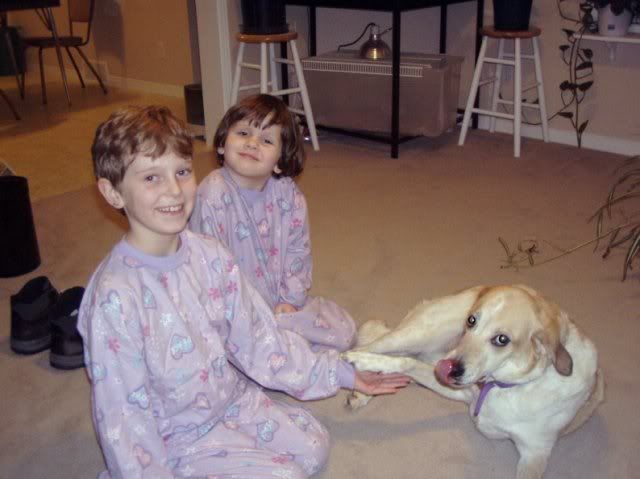 Brandy is approx. 9.5yrs old now.
I took her to the vet for her routine shots, etc. in March... she was pretty healthy (she had been overweight, now back to a healthy weight). In April I noticed this lump on her snout.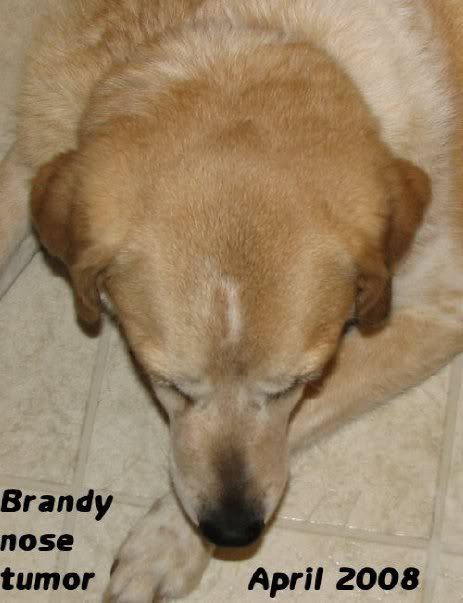 (hard to see but its on the left side of the pic) Pic from April.
I took her to the vet, and she was xrayed. Its a tumor. They cannot operate on it, as it would cause more damage than good. They warned me that this type of tumor can grow pretty fast, but it is usually just an eyesore for a while untill it gets really big. It was restricting her breathing through the right nostril, but no other effects. I was told it could be a couple months till it affects her health or year(s)
Pic from June: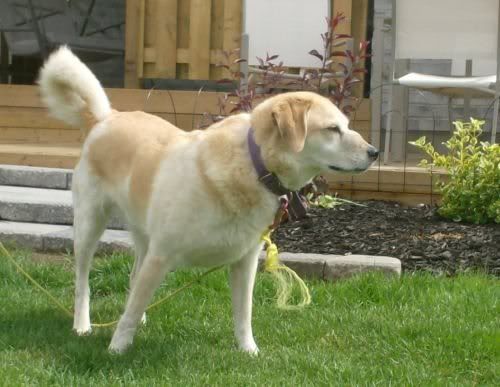 getting larger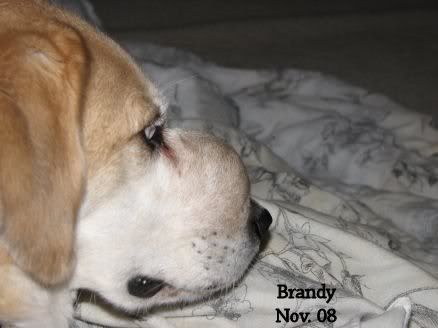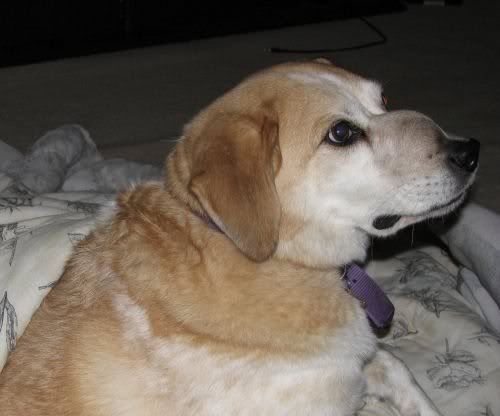 The above 2 pics are from Nov. As you can see, it has grown substantially.
The good thing is: It is still just an aesthetic thing. The only probs she has is that her one eye with water alot. She sneezes and snorts alot. She can still breath through her nose, although it is impaired slightly.
She is still the normal Brandy
She eats, she plays, she acts as hyper as she always has.
I am however starting to get scared for her... although she is fine right now, I know she may not make it till the end of next year. The tumor itself is quite large, covering both sides of her nose (in the beginning it was only on the right side).
We will see how it goes. Putting her down is going to be very hard, but I will not let her suffer. My 12yr old daughter is going to be affected most... she is very emotional, as am I....but I've done my best to prepare her, so she knows ahead of time. She understands that it could happen any time, or it could be a while.
I'm hoping it will be awhile yet
We don't mind that she has half a tennis ball on her nose
as long as it is not hurting her, that's all that matters to us.
Anyways, if you could give us some vibes/prayers/thoughts/etc. we would appreciate it. All we want is for her tumor to remain an eyesore, and not a health problem.
Thank you for reading... One last pic: a tired Brandy after a game of hide in the blankie.