I don't know where to even start. I am just so devastated.
He has been ill for awhile and we had a vet appointment scheduled on Monday to get him checked out and he died yesterday morning.
He had just turned 12 in November and last week started showing signs of incontinence (peeing in the house) - that we could deal with and we thought nothing of it. Then he wouldn't eat or drink and kept throwing up everything we gave him this week.
So we scheduled a vet appt. for him for him on Friday for today but the because the doctor was not in Friday to check him out and that got me fusturated and we have no emergency clinics here that would take Rocky because we are not one of their clients. He died yesterday morning before I went to work. I broke down and was late for work. Then when I got home it hit me hard and the pain is unbearable.
Rocky is one of the dogs that is rare to find. We have had him since I was 11 or older. We got him when we had to put our basset/beagle mix down around Christmastime. He filled the void and brings the Christmas/holiday spirit around in this family and it's going to be a very hard Christmas without our Rocky boy. :cry: He's the reason I get very excited for Christmas like I am a little kid all over again. He has always sat beside me at Christmas while I am opening my presents.
He has touched all the people that was lucky enough to meet him. He has touched our family in so many ways and I just feel like my heart has been ripped out and stomped on a million times. :cry:
He never met a person he didn't like and vice versa. Everyone loved him.
He's been to so many family reunions and was in our family Christmas card last year.
He always had a sparkle in his eyes when he looked at you and when he lost that sparkle this week we knew something was terribly wrong with him so we scheduled a vet appt.
I will probably post more pictures later when I feel up to it but this is me and Rocky in Christmas of 2006.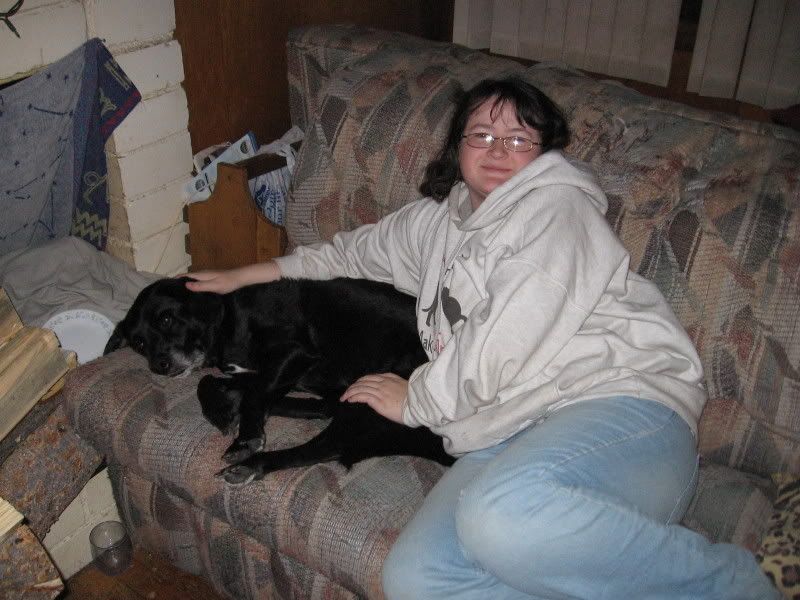 I love you big boy. I know he had a great life with us but I have to say that doesn't make the pain any easier to deal with.
When I came home today and he wasn't there to greet me yesterday or today I can't even explain the pain. I just hope he knew how much we loved him.
I love you big guy always and forever.
11-1-96 - 12-14-08