My little Billy's all grown up and has himself a girlfriend!
Meet the pretty little kitty that's been coming to my backdoor occasionally for a few months now. I'm pretty sure she's a stray - there's a few of them around the neighborhood that I've seen.
Billy sits and waits by the window for her to come by. They trill and meow at each other, and rub on the window. She kneads at the screen door.
And she has the cutest, tiny little meow.
A little movie of the two of them - its not the best quality, but you can see her and Billy flirting at least. That's Chay's tail that occasionally gets in the way - he's interested, but sometimes hisses at her. But Billy is just crazy about her!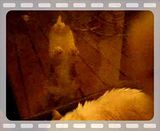 I've been leaving food out for her, and might pick up a blanket and some sort of enclosed shelter today since its getting cold. Might just find a cheap carrier at the pet store and put some kind of waterproof covering over the top of it.
She's still a little people-shy, but if I can convince her to trust me, I may have a third cat! She's just the cutest little thing, and I already know Billy just adores her!
We're naming her Calamity Jane or Cally, to go with Billy the Kit, for the moment.